Vaping in 2021
Vaping technology has in many ways come full circle. The earliest e-cigarettes were compact, discrete, and used potent e-liquid to compensate for their lack of wattage and vapor output.
They were often shaped to look like combustible cigarettes and the most common flavor was tobacco. The limitation on these early devices was the type of nicotine being used. Freebase nicotine, the kind found in "regular" e-juices, has a relatively high pH level, and becomes exceedingly harsh at levels over 24mg/ml.
Companies tried to spin this, claiming the throat hit and chest burn were features. But every indication is that adult vapers prefer sweet flavors and a smooth throat hit. There are still holdouts who still prefer this authenticity, using max-PG vape juices, but the logical solution to this quandary was a device that that created more vapor and was therefore capable of providing a satisfying experience with lower nicotine strength e-liquids.
This device was the vape mod. Still a favorite of many vapers, the box mod utilizes max-VG e-liquids which place an emphasis on cloud production.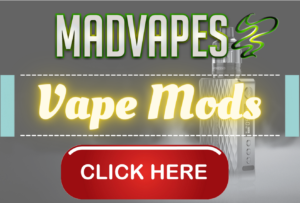 Unfortunately, for vaping initiates and veteran vapers not ready to carry around a large device powered by multiple 18650 batteries, this was not an ideal solution. Box mods are the very opposite of discrete. They are noisy, hefty, guzzle e-liquid and of course generate massive amounts of vapor. The impasse between box mods and what would now be viewed as a classic e-cig was finally broken with the advent of nicotine salt vape juices.
Salt Nic Juices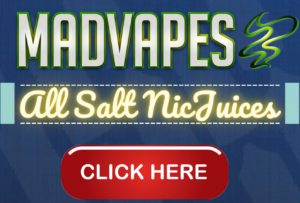 Nicotine salts are created by adding benzoic acid to the standard nicotine used in e-liquids. This simple solution lowers the pH level and according to studies also allows nicotine to cross the blood brain barrier more readily. The lower pH level means that more can be added without the vaping experience becoming untenably harsh.
Juul was the first company to take advantage of this potential for more potent e-liquid formulas. By loading up a small and otherwise underpowered device with e-liquids packing 50mg/ml nic strength they created a smash hit. Requiring no filling, just the swapping of pods and charging, they demonstrated ease of use and satisfaction were the primary selling points for electronic nicotine delivery systems.
It was a federal ban on flavors in prefilled vape pods, gas station staples like the Vuse Alto, MyBlu, Juul and Logic vape pods, that opened the door for the current popularity of disposable vapes. Apart from ease of use, the biggest selling point of disposable vapes is that they are still available in the flavors that adults prefer. They do not require any filling or charging. The user just opens the package and puffs away. And as they generally hold far more e-liquid than the 0.7ml Juul pod, they are also priced competitively with prefilled vape pod kits.
But for optimal flexibility, convenience, performance, and savings, the best Juul alternative is also the best disposable vape alternative. And that device is the refillable vape pod kit.
Refillable Vape Pod Kit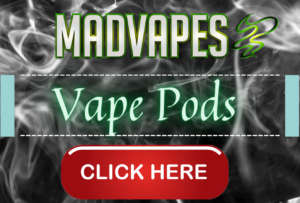 Unless you are pursuing huge clouds, a refillable vape pod kit meets the needs of most vapers. The technology has advanced considerably over the last several years. The batteries are now big enough to last more than one day, something that could never be said about a Juul.
They are incredibly easy to fill, are powerful enough to handle both regular e-juices and salt nic juices. They are also compact. With most models, you don't have to worry about swapping coils or setting wattage.
When the pod begins to show signs of aging, it is pitched in the trash and new one is snapped in. There are multiple pod options too. Most refillable vape pod kits have a high resistance pod for salt nic juices and a lower resistance pod for max-VG e-liquids. Some of the earlier refillable pod designs were prone to leaking but this issue has been largely remedied.
There are also pod mods and AIO vape pod kits with swappable coils, which add a whole new level of performance potential. But also a potential complication for a novice vaper.
One of the best refillable vape pods on the is the sturdy Vaporesso XROS. Similar in appearance and function to the popular UWell Caliburn, it provides great performance. The only real knock on it is its length of 4.5 inches. While still small, devices from the Smok Novo family for example are 25% shorter. This situation has been directly addressed with the new Vaporesso XROS Mini. The newest addition to the successful XROS family, how does it stack up to the original?
Vaporesso XROS versus Vaporesso XROS Mini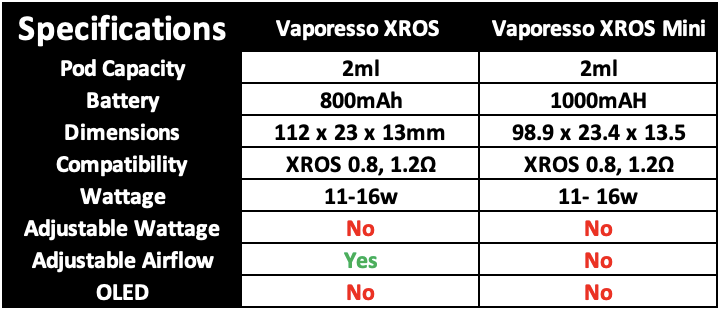 First let us look at what the Vaporesso XROS and Vaporesso XROS Mini have in common. Both are MTL refillable vape pod kits from Vaporesso. They are compatible with the same selection of pods. They have a similar form factor, although the mini is shorter. The output and wattage are the same for both devices: 11 to 16w. They have the same built-in safety features as well. Both are ideal for nic salt vapes on the go but can handle max-VG juices with the lower resistance pod.
But first a tale of the tape. The Vaporesso XROS is 112mm long (4.8 inches), 13mm deep and 23mm wide. The Vaporesso XROS Mini is also 13mm deep and 23mm wide. But it measures in at a diminutive 98.9mm (3.89 inches). For sake of comparison, a Smok Novo 3 is 88mm long. The Vaporesso XROS has an 800mAh battery and the XROS Mini has a 1000mAh battery. As mentioned above, the output and pods are the same. Both use advanced USB-C charging rather than a micro-USB port. But there are several important distinctions that set these two products apart.
Vaporesso XROS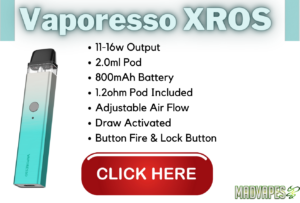 There are two major features that the Vaporesso XROS has that are not found on the Vaporesso XROS Mini. Of course, it was the deletion of these features that allow the Vaporesso XROS Mini to be a smaller device with a larger battery.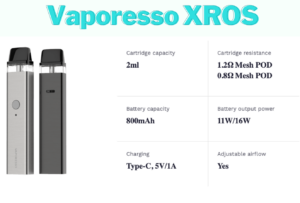 The first major feature of the Vaporesso XROS is that is functions as both a draw activated, and button fired vape pod kit. This same approach was adopted by the wildly successful UWell Caliburn. Most prefilled vape pod users and disposable users are most familiar with auto draw vapes. And for whatever reason, not needing to press a button is a huge deal to many vapers. This is perhaps because the vaping process more closely resembles the act of smoking a combustible cigarette with an auto draw device.
Draw Activated versus Fire Button
Coil technology is advanced in 2021 and they heat up almost instantly, removing one of the advantages that a manual fire button once had over draw activated devices. The disadvantage of the manual button is pocket firing or firing it for too long before inhaling, which can burn out the coil. On the flip side of the coin, the same button used for firing can also lock the device. In an auto draw device, there is the possibility that the port that connects the mouthpiece with the battery will get gunked up with e-juice and the possibility of unintentional activation exists. Other than on a Smok Novo X, I have never encountered this problem, but the internet has a few cautionary tales about auto draw vape pods going into business for themselves.
The dual fire option on the original Vaporesso XROS caters to personal preference. The other feature not found on Vaporesso XROS Mini is adjustable airflow. This feature can materially impact your vaping experience.
The airflow design is clever. On the top of the battery section and just below the pod is a sliding airflow adjuster. You can really ratchet down the air intake and create a much more restrictive hit. Many vape pod users will cover the airflow with the thumb while inhaling but this is a much easier option.
Overall, it is easy to see why the Vaporesso XROS is so popular and why Vaporesso might want a smaller vape pod kit that offers this same level of performance.
Vaporesso XROS Mini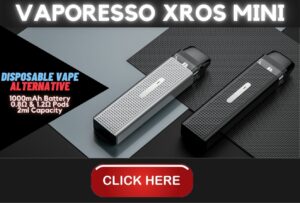 It is no exaggeration to say that the Vaporesso XROS Mini owes its smaller stature to the removal of the fire button and the air flow adjustment tab. Neither on their own takes up a tremendous amount of room but the XROS Mini is only 85 percent as long thanks to this change. The difference between 3.8 and 4.5 inches may not sound like much but is the difference between fitting in the little pocket in a pair of jeans and being demoted to main pocket duty with the keys and wallet.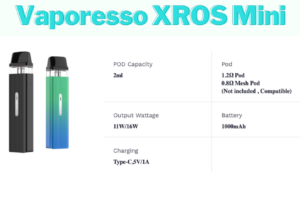 The space savings has also made room for significantly improved battery. The Vaporesso XROS Mini has 25 percent more battery life than an XROS. The vaping experience provided by the two products is very similar. I did not miss the lack of a button fire option. Vapers live in a world awash in pods and very few of them allow you to place your finger on the trigger. The airflow adjustment doesn't make as big of a difference as you might imagine. The available pods offer distinct vaping experiences. If you are looking for a looser draw, just get the 0.8ohm pod instead of the 1.2ohm.
Interestingly, the biggest upgrade between the Vaporesso XROS and Vaporesso XROS Mini positively impacts both devices. And that is the newly available pod design which is compatible with both models. Both models have a multi-colored battery life indicator.
Vaporesso XROS Pods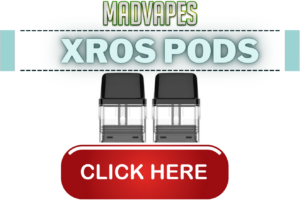 The Vaporesso XROS comes with two pods. Vaporesso XROS Replacement Pods also come in two packs.
Compatible with all of the Vaporesso XROS collection of refillable vape pod kits, as a replacement pod you can get the 0.8ohm Mesh Pod. It is not included in the original vape pod starter kit. The pod that comes with the Vaporesso XROS and Vaporesso XROS Mini is a 1.2ohm resistance mouth to lung model.
Both have an e-liquid capacity of 2ml. The tighter drawing 1.2ohm pod is perfect for MTL vaping and nic salts. The 0.8ohm pod works at 16w and can handle regular e-liquids. This is one of the huge advantages of a refillable vape pod kit. You are not stuck vaping only 25mg/ml and 50mg/ml nic strength juices. You can just as easily vape nicotine free e-liquids and 3, 6 and 12mg/ml max-VG e-liquids as well.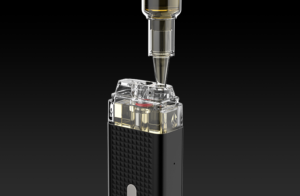 Both pod designs use SSS leak-resistant technology. Filling is easy as well. The clam shell top pops off to reveal two fill ports. This set-up is similar to a UWell Caliburn. The presence of two ports makes filling smooth, in the same way that you punch two holes in an aluminum can of liquid to extract the contents smoothly. Little touches like these really pay off.
The 1.2ohm pod in the XROS Mini has been enhanced a bit from the original design but the performance is quite similar.
Vaporesso XROS Mini versus the Smok Novo 4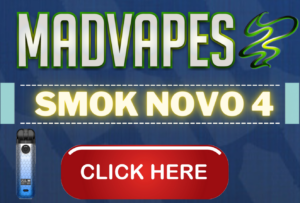 The obvious rival for the Vaporesso XROS Mini is the Smok Novo 4. With adjustable airflow, small size and swappable coils, it has many features not found on the XROS. It has adjustable airflow, adjustable wattage, an OLED scree and the coils can be removed. This means you do not need to pitch the whole pod when it has reached the end of its life.
In terms of performance using salt nic, there is not much to separate them though. The Vaporesso XROS Mini has a bigger battery and slightly lower wattage (16w versus 25w).
The Smok Novo 4 does have adjustable wattage however, so it can be turned down for potent salt nic juices. Even with all of the features on the Smok Novo 4, it is going to come down to personal preference.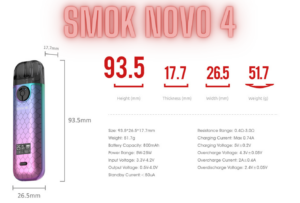 The Vaporesso XROS Mini demonstrates simplicity is a feature. It is small and likely to appeal to novice vapers who are looking to make the switch. Veteran vapers who just want to vape salt nic and don't care about the bells and whistles are also likely to gravitate towards the Vaporesso XROS Mini. The fact it has the same form factor as a Puff Bar or Juul is certainly a bonus in the eyes of many.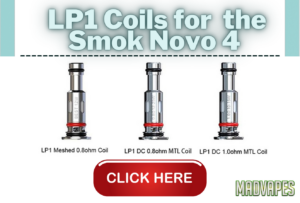 The Smok Novo 4 is compatible with LP1 Coil family, and for the first time ever the Novo comes with press and fit coils. Before you just threw the whole pod in the trash when it was done. LP stands for leak proof. The pod lives up to its name and the coil itself has three silicone gaskets to prevent leakage.
The Smok Novo 4 vape pod kit comes with one pod and two replacement coils. The first is a 0.8ohm Meshed Coil that works best  at 12 watts. The second is a 0.8ohm Dual Coil that functions best between 12 and 25 watts. With adjustable wattage you have total control. Surprisingly, the Dual Coil at 25 watts is more than a match for its flavorful mesh counterpart.
Pod Mods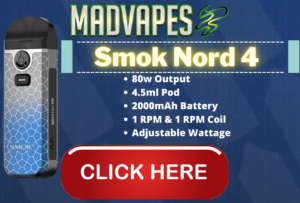 The term vape pod is a loose term. It describes a device that does not have standardized threading and only works with proprietary pods. They run the gamut in terms of size and power. At the opposite end of the refillable vape pod continuum from the Vaporesso XROS Mini is the Smok Nord 4. Using an RPM 1.0ohm SC coil, it can quite easily vape salt nic juices. There is even a 1.2ohm Quartz Coil. The adjustable wattage and huge selection of coils makes the Smok Nord 4 a competitor for just about any vaping device ever conceived.
Keep in mind the standard coils that come with the Smok RPM 4 and Smok Nord 4 are sub-ohm. They are not suitable for use with potent salt nic juices.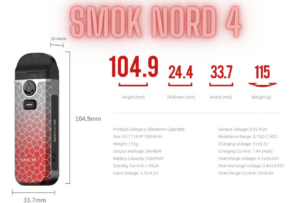 The secret, and these same lessons apply to the less powerful Smok RPM 4, is that it comes with two pods. Each pod is compatible with a specific family of coils. In the case of the Smok Nord 4, this is the low resistance RPM 2 coil family and the original RPM coil set. There have been at nearly a half-dozen RPM coils released in the last three years. These press fit coils have great performance. Pods with swappable coils are also referred to as AIO or All-In-One devices.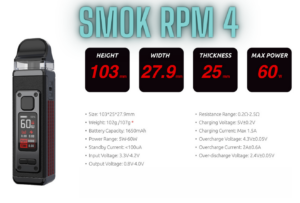 If you are looking for a refillable vape pod that can function as a vape mod, a pod mod if you will, the Smok Nord 4 and Smok RPM 4 are vastly more powerful devices than the Vaporesso XROS or XROS Mini. But if you are an adult vaper who sticks to nic salts and wants something compact and easy to use, it is still hard to beat the XROS.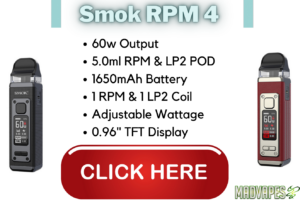 There are definite advantages to both the classic pod and the AIO designs.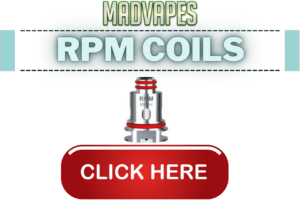 Tobacco Free Nicotine (TFN)
Finding the right refillable vape pod kit matters more today than ever. The proliferation of non-tobacco nicotine products has really raised the flavor game. Synthetic nicotine has a more neutral flavor than tobacco derived nicotine. This makes the flavors shine even brighter.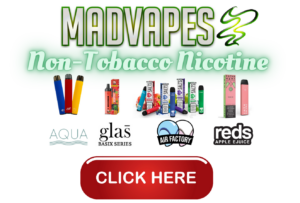 Tobacco Free Nicotine (TFN) is a trademarked product of Next Generation Labs. It does seem to make a difference with flavor. It also has the advantage of cutting cord with Big Tobacco. Using a proprietary process, e-liquids using TFN do not need to source their nicotine from tobacco plants grown in the industrial agricultural complex of Big Tobacco.
Final Thoughts
The Vaporesso XROS Mini is a perfect alternative to a disposable vape. It delivers discrete performance, is a perfect conduit for nic salts and is easy to tote around. The fact it has a bigger battery than the regular Vaporesso XROS is a bonus. If you are a veteran vaper who wants optimal control or switches between different e-liquids regularly the original XROS is probably a better choice due to its airflow control. But for most vapers, especially for smokers looking to switch to vaping and in search of a starter kit, the simple and robust design of the Vaporesso XROS makes it a perfect choice.
The Vaporesso XROS Mini is one of the best refillable vape pod kits on the market today and delivers exactly what most adult vapers are looking for: a compact and easy to use device that is reliable and delivers satisfying performance. With no coils to swap, wattages to adjust or buttons to push, the Vaporesso XROS Mini is not much more difficult to use than a disposable vape or a prefilled pod. But the simple expedient of filling your own pod will save you money and allow you to enjoy a whole universe of e-liquid flavors. This includes both nic salts and lower nicotine options.
If you are looking for a similar device but with a few more bells and whistles, the Smok Novo 4 is a great alternative. If you want to take it a step further, the Smok Nord 4 and Smok RPM 4 can handle nic salts with aplomb when you opt for the optional high resistance coils. Yet with the standard sub-ohm coils, you have a device that can go toe-to-toe with a vape mod. These are true AIO vapes and Pod Mods. Which is no surprise, RPM stands for "Real Pod Mod".