Best Disposable Vapes
Vaping preferences and habits take all forms, but the market has made one thing clear. Most adult vapers are just looking for an easy-to-use vape which is satisfying and has great flavor. The best disposable vapes check these boxes and therefore are popular. It is that simple.
Disposable vapes are powered by a pre-charged lithium-ion battery. The original generation of disposable e-cigs did not have access to nic salts and struggled to provide a satisfying experience. Today's disposables come pre-filled with nicotine salt e-juice and are draw activated vape pens. There is not even a button to press.
Most importantly, they provide a satisfying vaping experience. The smooth nicotine salt e-liquids used in today's disposables have almost no throat hit. Like the older generation of disposable e-cigs they are optimized to provide a tight mouth to lung vaping experience. No matter the vintage, the best disposable vapes have always made ease of use, puffs and flavor the top priorities.
In 2021, leaps and bounds improvements in performance have transformed old-fashioned disposable e-cigs that looked like a cigarette into the sleek, modern product that adult vapes prefer.
Nicotine Salt Disposables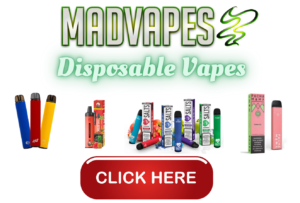 The newest generation of disposables continues to grow in popularity with adult vapers and many are longer lasting models
The earliest nicotine salt disposable vape pens were "stick bar" style. You have seen them. The original Puff Bar is a classic example. Crack one open and you would find that under the hood that the technology has advanced little from the days of the gas station cig-a-like disposable e-cig. Yet they provide demonstrably superior performance.
If you were to have examined the innards of an original Puff Bar and compared it to a disposable e-cigarette designed a decade earlier, you would find more similarities than differences. Both had bottom coil designs, both rely on an e-liquid soaked cotton polyfill. They both use a lithium-ion battery with a capacity of under 300mAh.  This was said to be good for 300 puffs.
Modern Disposables
The great leap forward in disposable e-cig performance can be traced to the use of salt nic. Gone are the days when an abrasive throat hit can be touted as a feature. There are still adult vapers who prefer tobacco flavors and a good authentic chest burn. They are in the minority. Smoothness and fruit ice combinations dominate the market.
The original stick bar style of nicotine salt disposable vape was estimated to generate around 300 puffs. As the Puff Bar held 1.3ml versus less than 1ml in many of the original cig-a-like disposable e-cigs, this puff count was a bit more realistic but still optimistic.
Apart from the use of salt nicotine in the modern disposable vape pen and freebase nicotine in the original disposable e-cigs, the main difference is appearance. Modern disposable vapes do not attempt to duplicate the look of a cigarette. Instead, they sport a squared off and modern looking chassis.
A circa 2010 disposable e-cig usually included a light meant to look like the glowing ember of cigarette and many adopted a color scheme that resembled a cigarette filter. Some of the later cig-a-like models were outsized and looked a bit absurd.
2021 Disposable Vapes
Today, you can find a disposable vape pen that claims to be good for 1500 puffs at your local gas station and many boast double this number. The vapor production has increased as well. The e-liquid capacity of these long-lasting disposables can exceed 8ml. This is quite a bit for a disposable vape. Even the mid-sized models usually hold about 5ml.
The increase in e-liquid capacity has been met with a corresponding increase in battery capacity. Batteries larger than 1000mAh are installed into disposable vape pens to make sure that every drop of vape juice is extracted. For sake of comparison, a modern Smok Novo has an 800mAh battery and holds 2ml of e-juice.
Long lasting disposable vapes are usually cylindrical in shape. There are exceptions. Hyde Disposables has some unique designs but most manufacturers offer various sizes of this basic layout. Most disposable vape manufacturers offer a mid-sized model said to be good for 1500 puffs and a max disposable which is even larger. Longer lasting disposables contain more nicotine than multiple packs of cigarettes. The puff counts can exceed 2500 according to manufacturer estimates.
Disposable Vape Flavors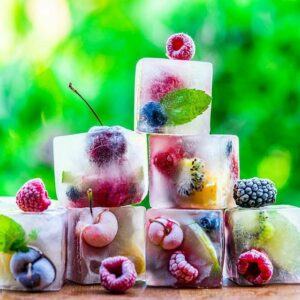 The Puff Bar Disposable was one of the first brands to really breakthrough in popularity. Adult vapers enjoyed the tight draw and compact size. Puff Bar, Posh, Cali Bar and their many rivals all offered a wide range of outstanding flavors to choose from.
Disposables were immediately a smash hit. Despite being a disposable product, the clarity of nic salt flavor was competitive with the refillable vape pod kits of the time. Today, there are devices like Vaporesso XROS Mini which are super easy to fill, generate great flavor and just as small as a disposable. The pickings were slimmer in 2018.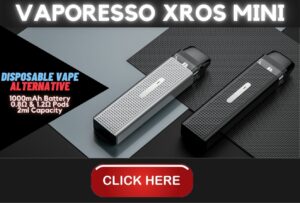 When the federal government banned flavors in pre-filled vape pods like the Juul, MyBlu and Vuse Alto, suddenly disposable vapes had a monopoly when it came to offering an easy-to-use device that required no filling and provided multiple flavor options. The fact that disposables generally held more e-liquid, lasted longer, and were competitively priced with prefilled vape pods were additional bonuses.
Refillable Vape Pod Kits
But in terms of price performance, filling your own refillable vape pod kit with bottled nic salts is always a much cheaper option than a one-time use vape. A reusable device is also more environmentally conscious because you do not throw it away after the battery gives up the ghost.Moreover, a refillable vape pod in 2021 can handle any nicotine e-liquid. This gives you far more nicotine strength and flavor options. Mad Vapes carries a wide selection of salt nic juices and you are sure to find one you like just as much as your favorite disposable vape.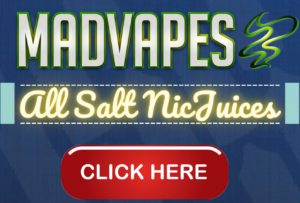 The flavors found in the original Puff Bar and its early rivals placed a heavy emphasis on fruit flavors blended with chilly menthol ice. Coupled with the tight draw and high-nic strength, they were compact and perfect all-day vapes. Lush Ice, Blueberry Ice, Strawberry Ice, Banana Ice, Pineapple Ice, Guava Ice, Lychee Ice, Peach Ice, Blue Razz, Strawberry Banana, and similar flavor profiles were best-sellers.
The quality of the flavors was an epiphany for many adult vapers, but adult vapers wanted disposables that had all-day flavor but lasted more than one day. It can feel wasteful to pitch an e-cig after 12 hours of use. If you are adult vaper who worries about batteries in landfills, try a refillable vape pod kit. They have come a long way and are super easy to use.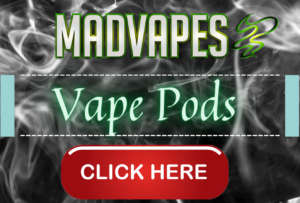 Salt Nic Juices
Crucial to the popularity of disposable vapes, is the use of salt nicotine. The earliest salt nic disposable vapes had small batteries and a low wattage output. They are well-suited for lower nicotine e-juice. Where they excel is mouth to lung vaping. While they are by no means high wattage, larger batteries and e-liquid capacities have changed the look and feel of salt nic disposables.
Salt nicotine did not exist when the original disposable e-cigarette vapes first hit the market. They used freebase nicotine. Freebase nicotine becomes very harsh at higher nicotine strengths.
This was billed as a feature, with vapers looking for a "throat hit", but the market has made clear that the smoother vapor produced with nicotine salts is the more popular option.
Filled with 5 mg strength salt nic, the best disposable vapes in 2021 have more flavor, are smoother, more potent and deliver more puffs than their predecessors. There are more cost-effective ways and less wasteful methods. Throwing away a lithium-ion battery every few days is not ideal. Mad Vapes urges you to safely dispose of your empty disposables.
Best Disposable Vapes
Finding the best disposable vape can be a daunting challenge. Subjective flavor preferences will play the largest role of all. The second factor is how long lasting of disposable device you want.
If you are a vaper who likes to switch between different flavors constantly and grows bored of vaping the same juice every day, a smaller disposable device with an estimated 400 puffs might be the right call. Stick bar disposables are also more affordable. They are a great way for adult nic salt vapers to try new flavors. After sampling multiple flavors, you can then invest in a long-lasting disposable.
Stick bar disposables do not last long compared to their big and tubular cousins. No one will dispute that the draw on these original salt nicotine disposables is beyond reproach.
Even if you prefer a long-lasting disposable, the smaller stick bar design allows you try a new flavor without dropping $20 on a device designed to last for a week.
Long Lasting Disposable Vapes
With a bigger battery and more puffs, longer lasting disposable vapes provide stability and are great as an everyday vape. With a more powerful battery, they produce more vapor. The flavor and draw are still outstanding on these devices. Some even have adjustable airflow, allowing you to adjust how tight of a draw you want.
While not big per se, longer lasting disposables can hold the equivalent of a quarter bottle of e-liquid. They are still draw activated, meaning they are just as easy to use as a smaller model. They come pre-filled, but their e-juice capacity dwarfs a refillable vape pod. Simply open the packaging and puff away. Although a bit larger, they are still a discrete vaping device. The vapor production is unobtrusive. The overall standard of quality is very high for a disposable consumer good.
Best Disposable Vape Brands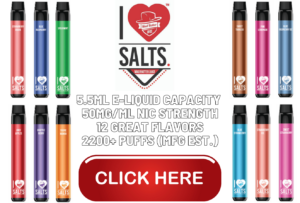 Mad Vapes carries a wide selection of the best disposable vapes. Puff counts and e-juice capacity can vary greatly. It is worth researching every brand to find a perfect fit.
In terms of vaping, there can be some overlap in nicotine salt flavors. This is intentional and a feature. If your favorite Strawberry Banana or Blue Razz flavor is out of stock, you can just sample the offerings of another brand with a similar flavor.
The flavors found in disposables are not just formulated by faceless companies either. Reputable nicotine salt and e-juice producers have thrown their hat in the ring.
Mad Hatter, manufacturer of the popular I Love Salts line of nicotine salts, now offers a full lineup of flavors in a reliable 5.5ml disposable. Estimated to generate 2200 satisfying puffs, there is no easier way to vape the I Love Salts flavor collection. A robust battery assures that every puff and drop of flavor is extracted from this compact disposable.
Mad Vapes also carries the popular line of Hyde Disposables, the formidable Vaptio line, Pachamama Synthetic Disposables, and the full line of Hitt disposables.
Vaping Technology 
How did we reach a point in vaping where we are back to disposables rather than refillable devices?
Is it a logical evolution because most vapers were once cigarette smokers? Cigarette butts on the street outside of a bar are evidence that cigarettes are nothing if not disposable.
Or is it because disposables are so practical, especially if you are headed to that same bar or just need an expendable device for a few puffs when traveling?
The evolution in vaping technology suggests these observations are right on the mark. Adult smokers who are looking to make the switch want vaping made easy.
It has been over a decade since e-cigs and vape juices were first made widely available to legal age adults. The initial products were designed to mimic cigarettes not only in performance but appearance. These were easy to use devices but limitations in e-liquid technology kept them from reaching their full potential.
Freebase Nicotine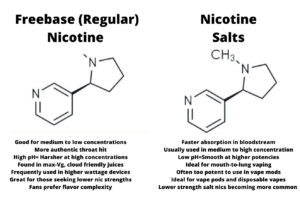 Standard e-juice nicotine, freebase nicotine, is quite suitable at lower levels but its high pH level makes it very harsh over 18mg. Devices that don't have much power, like the early cig-a-likes and cartomizer vape pens, may require nicotine strengths of 18mg or higher to provide a satisfactory experience.
There are vapers who prefer the throat hit and chest burn of a strong freebase nicotine. While the majority, a more common case is made for freebase nicotine extracting more flavor complexity.
At levels up to 12mg, there is no huge spike in harshness and freebase nicotine is the norm. There are some lower strength salt nics on the market but most lower strength vape liquids use freebase.
This is of course a huge feature. Ideally, a vaper will slash their nicotine level on a regular basis with an eye on stopping entirely. This may be a tall task with nic salts and their typical strengths of 25mg and 50mg. Freebase e-liquids are regularly available nicotine free, and in low concentrations like 3mg and 6mg.
Vape Mods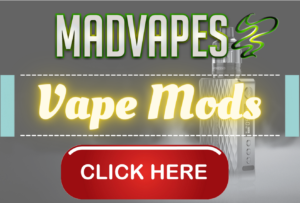 The harshness of freebase nicotine at higher strengths is why sub ohm vaping became popular.  Powerful vape mods, many clocking over 200 watts of output, could generate massive vapor clouds. Usually powered by 18650 batteries, mods allowed vapers to enjoy an extraordinary vaping experience with nicotine levels below the 12mg threshold where regular nicotine's high pH isn't a detriment.
Before the arrival of mass produced vape mods, cloud chasing was best left to hobbyists with mechanical vape mods. These did not contain a circuit board or much in the way of safety features. Modern vape mods have tremendous power and mechanical mods are probably best left to those with expertise in electrical circuit safety.
Today's mass-market vape mods laden are laden safety features, affordable and super easy to use. They have adjustable wattage, chips that identify the resistance of the coil you have installed, adjustable wattage and are very reliable. They are the apogee of vaping technology. There is no better way to vape medium, low and zero nicotine e-juices.
But technological sophistication is not a priority for many adult vapers, especially when it comes at the expense of portability and adds complexity to the equation. In theory, anyone should be able to fill a tank with a bottle. In practice, a lot of people just want a vape they don't want to have to think about at all. This is especially true of beginning vapers and even mod users may have a use for compact disposable vape in any number of situations.
Pros and Cons of Vape Mods
Several immutable factors limited the market penetration of vape mods. The first is that vape mods can be intimidating to someone who has spent a lifetime simply lighting cigarettes. They are thirsty. They burn e-liquid quickly and this e-liquid has a lower nicotine strength.
While the ability to convert lower nic juice into a satisfying experience can only be viewed as a positive, the result is that vape mods have large tanks and require larger bottles to refill. Designs have improved exponentially but more liquid means more opportunity for catastrophic leaks, and user error spills.
The second is that vape mods require a lot of battery power. Batteries take up space. Vape mods are not small or light. They are no longer bugle sized but they are much bigger than a disposable in terms of weight.
Related to this is the final issue, they are not at all discrete. In fact, vape mods are kind of noisy and generate massive plumes of vapor.
Attacks by anti-vapers on the colorful names and flavors of the max-VG e-liquids always demonstrated how ill-informed they were. Very few minors were using vape mods at the height of teen vaping epidemic because they are noisy, loud, and impossible to conceal. Instead, the vast majority of the teen vaping epidemic could be traced to advances in e-liquid technology and the popularity of the Juul prefilled vape pod kit. Studies have shown adult vapers prefer the sweeter characterizing flavors that the anti-vaping lobby is obsessed with banning.
Nicotine Salts
Salt nic juices begin life as a regular vape juice. Benzoic acid or a similar compound is applied to create nicotine salts. Nicotine salts have a lower pH than the standard freebase nicotine found in most e-juices. This means you can add more to a vape juice without creating an intolerably harsh throat hit.
A salt is type of molecule. Unless you have a microscope, the differences between the two are not obvious. While salt nics are usually medium to high potency, there is no reason why a low potency vape juice cannot use nic salts instead of freebase nicotine. Some companies have pursued this avenue for years.
The majority salt nic e-liquids are between 25 and 50mg. The increased nic strength means that less vape juice needs to be puffed to obtain a satisfying experience. Whether you use a vape pen or a mod, less vapor being produced means less drain on the battery.
Gone are the days when you need a massive battery to make it through the day. Little puffs of nicotine salt e-juice require less energy but deliver just as much nicotine.
Quite simply nicotine salts have brought us back to where vaping was initially. The most popular vapes today, refillable vape pod kits and disposables, use a smaller battery and provide a mouth to lung draw that is similar to a cigarette. This is changing a bit as more powerful pod mods blur the lines between vape pods and mods. These offer multiple coils and the utmost in flexibility.
Future of Vaping
Regardless, with massive vapor production no longer necessary, the emphasis has shifted back to flavor instead of clouds. You needn't conduct market research to determine that most adult vapers want sweeter fruit and ice fruit flavors. There are still dessert vapes on the market, but they are greatly outnumbered by the grape mango ice flavors of the world. The world of complex and creamy custard vapes still sets the vape mod world's heart aflutter, but ice menthol is the coin of the realm in the nic salt world.
Before there were nicotine salts, some of the cig-a-like generation disposable e-cigs approached the modern disposable in potency. But there were serious tradeoffs. Manufacturers had to balance vapor production, nicotine strength, and throat hit.
Take the original Blu with 48mg of freebase nicotine. Too much freebase vapor of this potency would have made it intolerably harsh. Instead, it generated wisps that many early vapers simply found insufficient. The best disposable e-cigs from a decade ago usually had a nic strength closer to 36mg.
The lithium-ion batteries were not as large either. This meant shorter battery life, fewer puffs, and less vapor. Adding nicotine salts and larger lithium-ion batteries has completely changed the disposable e-cig game and made them competitive with the best refillable devices in terms of flavor.