Vaporesso XROS Mini: Best Disposable Vape Alternative
Disposable Vape Pens
The popularity of disposable vape pens with adult vapers is easy to understand. They are compact, easy to use, require no filling, no charging and deliver satisfying performance thanks to use of smooth salt nic juices. The fact that popular prefilled vape pod kits, such as Juul and Vuse Alto, are no longer available in the fruit flavors that adult vapers prefer makes their appeal a slam dunk.
Refillable vape pod technology has advanced to the point where they are nearly as convenient and can save you a lot of money. A perfect example of this trend is the compact and cutting-edge Vaporesso XROS Mini.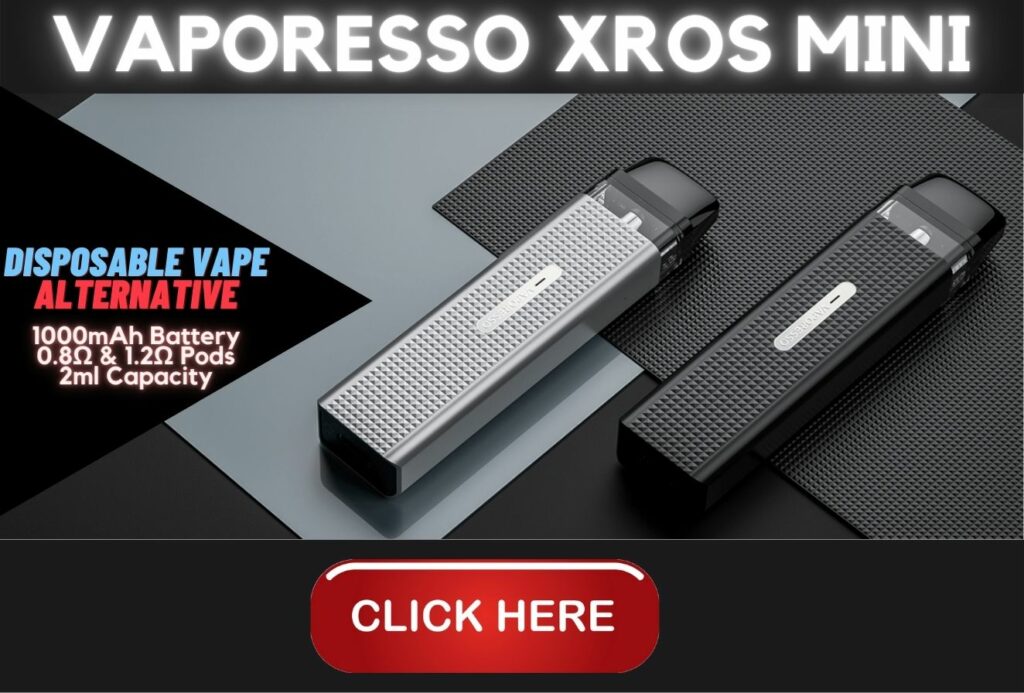 First it is time to talk about disposables. There is no question disposable vapes have come a long way in terms of technology. The original cig-a-likes first started popping up at gas stations and convenience stores almost a decade ago. They were loaded with potent freebase nicotine and available in tobacco flavors. With a nic strength usually in the 36mg/ml range, these disposables had an authentic throat kick but worked a bit stiff for many vapers. Unfortunately, they did not generate much vapor and this level of harshness was baked into the product. At anything below this high nicotine strengths and they didn't provide a satisfactory experience for anyone looking to switch to vaping because they generated very little vapor and many models contained very little e-juice.
Nic Salts
Salt nic e-liquids completely upended the vaping landscape, and the quality of disposable vape pens has benefited greatly. Higher concentrations of nicotine could be used and more importantly the actual experience became less harsh. Moreover, studies have shown that nic salts cross the blood brain barrier more readily.
To go along with the new salt nic juice was a new look for disposable vapes. Gone were the cigarette-style aesthetics and sleeker shells, reminiscent of a Juul, were adopted in their place. In the earliest generations of these nic salt disposables, the actual underlying technology remained almost the same. While some of the smaller disposables vape pens, notably Stig, have a sealed pod of e-liquid inside, today almost every disposable vape on the market is a simple device which consists of a heating coil, cotton polyfill soaked in e-liquid and a battery. Crack one open and there is not much to distinguish today's disposable vape pens from the earliest models as far as the underlying technology.
Disposable Vape Pens
This being said, there have been huge advances in a reliability, e-liquid capacity, and battery life. The original Puff Bar and Posh seem awfully flimsy compared to the popular and blocky Hyde Disposable Vape Pens with adjustable air flow or the numerous cylindrical disposable vape pens of various sizes being turned out by reputable manufacturers.
But the disposable vape design is inherently wasteful as a one-time use device and offers little in the way of flexibility. Most only come in a single nicotine strength, generally a potent 50mg/ml. And then there is the fact that when the battery has given up the ghost and they are drained of e-liquid their next stop is generally a landfill. Nor are disposable vapes the most cost-effective way to vape. They are precise competitively with prefilled vape pods, and still available in the flavors adult vapers prefer, but bottled e-liquids will always save you Monet,
The earliest stick style disposable vapes usually held about 1.3ml of e-liquid. This may have been twice the capacity of a Juul pod but a single bottle of nic salts hold 30ml.
There are of course longer-lasting disposable vape pens on the market now. Some approach double digits in nic salt capacity. But they also cost as much or more than a 30ml bottle of nic salts. It does not take long to accrue savings when switching to a refillable vape pod kit. The rub is finding a refillable vape pod that is so easy to use that it can seamlessly replace a disposable and not inconvenience the user. Enter the Vaporesso XROS Mini.
Vaporesso XROS Mini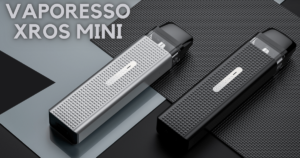 The Vaporesso XROS Mini is a close relative of the original Vaporesso XROS Pod Kit. In terms of daily use, the primary differences are that the original XROS operates as a button fired or auto draw device, and it also has adjustable airflow. This does not mean the XROS Mini is just a barebones model. The mini has a substantially larger battery, 1000mAh versus 800mAh, and is compatible with the same exact pod selection. The wattage output for both the XROS and XROS Mini is 11 and 16w.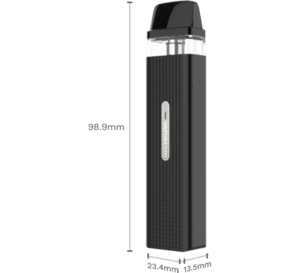 Next to the extended battery life, the biggest advantage of the Vaporesso XROS Mini over the original XROS is size. And it is this compact size that makes it perhaps the best disposable vape pen alternative. The original XRos measures 4.4 inches in length. The XROS Mini is less than 4 inches long, 3.89 to be exact. This makes a big difference for pocket storage and puts the Vaporesso XROS Mini in contention with the Smok Novo series, which range from a bit under 3.5 inches for Novo models 1  to the 3.68 inches for the Smok Novo 4.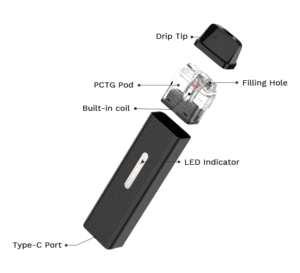 If you want adjustable airflow and a button fire, the original XROS is the better choice. But as a disposable vape alternative, the Vaporesso XROS is your best bet.
Vaporesso XROS Mini versus Disposable Vape Pens
More germane to our discussion on disposable vape pen alternatives, the Vaporesso XROS Mini is substantially shorter than the first generation of stick style disposable nic salt vapes, such as the Puff Bar, and is simply smaller than a Hyde or any of the cylindrical XL disposables that have flooded the market. It is every bit as easy to pocket and carry around a refillable vape pod kit as it is to carry a disposable.
The Vaporesso XROS Mini is a draw activated vape pod device. With no buttons to push or wattages to adjust, it is every bit as easy to use as a disposable. Loaded with nic salt juices, it will provide very comparable if not superior performance to the best disposable vape pens on the market.
The biggest selling point of disposable vapes is that they do not require filling or charging. While a Vaporesso XROS Mini requires both,the amount of money saved makes this minimal labor input well worth the effort. A 30ml bottle salt nic juice costs an average of $15. An XROS Mini will set you back about $30. For $45, you have the equivalent of 5 Hydes Originals or 23 original Puff Bars.
Early models of vape pods, and vape tanks for that matter, were very prone to leaking. This was a major drawback and has been addressed repeatedly. While there is no such thing as "leak-proof" where vaping is involved, they have reduced instances of leakage tremendously.
Vaporesso XROS Mini Pods
The pods on the Vaporesso XROS and XROS Mini are the only part that needs replacing other than the e-liquid. And this is an incredibly easy to use pod design. The clam shell top has two large fill ports that easily accommodate a chubby gorilla bottle. Each pod holds 2ml of e-liquid. The benefit of two holes is that e-liquids flow right in.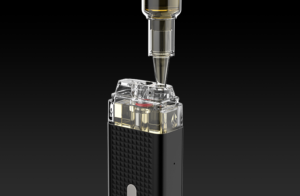 If you are old enough to remember filling glasses from large aluminum juice cans, use condensed milk cans, or understand how liquids work, you know that two holes are a lot better than one when it comes to filling. The air flow coming in the hole not occupied by the juice bottle allows air to enter and helps the viscous e-liquids to flow in smoothly. This lack of a second hole is why it can be such a pain to fill certain pod designs. Not a problem with the XROS Mini.
There are two vape pod designs available. The updated XRos Pod has a resistance of 1.2ohms and is compatible with both the original XROS and XROS Mini. There is also the 0.8ohm XROS Pod. This mesh pod has a quick ramp up time. It is perfect for vapers using the lower potency nicotine strength salt nic juices and fans of regular nicotine e-juices with a higher VG content.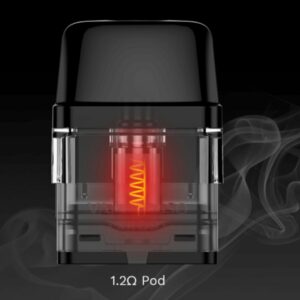 The performance of the pods is outstanding. Both are exceedingly long lasting and will not require frequent replacing. The MTL 1.2ohm pod has a nice snug draw. It generates tremendous flavor without overwhelming cloud production. It may not have the adjustable airflow of the larger XROS but the mini equipped with the MTL pod is a great device for flavor and satisfaction.
The 0.8ohm pod uses mesh coils and generates more flavor. It is a great vape pod for vaping max-VG e-liquids. Unlike some lower resistance vape pods, the draw is not so loose as to seem out of place. It is still ready to handle nic salts and the flavor is top notch.
Final Thoughts
Adult disposable vape users should at least consider switching to a refillable vape pod kit. They have superior performance, a wider range of e-liquid options, are easy to use and save money. All it takes to keep a Vaporesso XROS up and running is the occasional pod swap. Unlike early models of refillable vape pod kits, these pods are not prone to leaking or breaking. They also last a long time. Each pod should be able to get you through at least a half bottle of salt nic juice before the flavor starts to fade.
There are no settings to worry about with an XROS Mini, although swapping the pod you adopt can significantly change the way it vapes. The good news is that the Vaporesso XROS Mini starter kit comes with one of each style of pod. You can simply test both off, see which one you prefer, and the only thought you need to put into it after that point is making sure you have e-juice and replacement pods on hand.
Disposable vape pens have much to recommend. They taste great, couldn't be easier to use and satisfying. But a refillable vape pod kit like Vaporesso XROS Mini delivers a very similar experience and will pay for itself almost immediately.