Smok Novo 2 versus Smok Novo 4

Smok Novo 4
The original Smok Novo, launched in 2018, was designed to serve as a refillable alternative to the popular Juul pod system. At that time, Juul devices were still available in flavors but the Smok Novo could provide huge savings as it could be refilled with bottled salt nic juices.
The Smok Novo 4 is the ultimate version of the Smok Novo design. It retains the same size and performance envelope. It remains every bit as quiet, efficient, flavorful and discrete as its predecessors. But the Smok Novo 4 has burst onto the scene with adjustable wattage, USB-C charging, and a clever airflow design. It has an effective 0.49″ OLED screen and a higher-quality zinc alloy frame. But apart from appearance, it will feel very similar in your hand. It weighs 8 grams (about a quarter of an ounce) more than a Smok Novo 3. It is about 5mm longer, which is about 0.2 inches.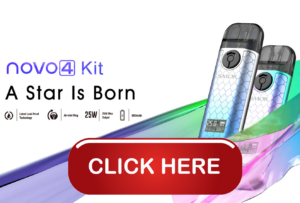 Juul's most popular flavors were removed by a federal flavor but at the same time potent nic salt juices have surged in popularity with adult vapers. In response to these market forces, a wide range of refillable vape pod kits have hit the market.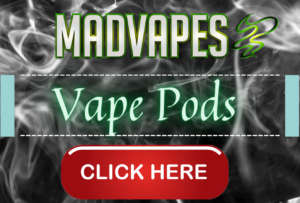 The refillable vape pod kit category has grown to cover a wide-range of devices. It is a term that includes devices like the Smok Nord 4, which has an 80-watt output and is just as comfortable chucking clouds like a box mod as it is delivering crisp MTL nic salt puffs. The Smok Nord 4 is not much bigger than a Smok Novo but isn't as specialized for nic salt juices. There is pretty much a vape pod kit for every vaper, whether you use a box mod or got started years ago vaping on an eGo Twist.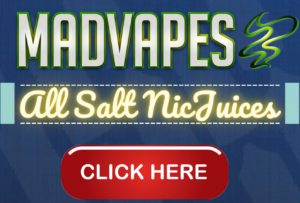 As ever larger and more intricate pod devices have hit the market, the Novo family has always stuck closer to its nic salt vaping roots. The original Smok Novo was 16 watts device with 450mAh battery. The newer models are more powerful, 800mAh batteries and 25 watts. They can handle any e-liquid, but most users stick to the devices original purpose: vaping nic salts. Each generation of Novo has shared some basic design elements. They are quiet, efficient, small, discrete, reliable and generate great flavor.
Smok Novo 2 versus Smok Novo 3
The Smok Novo 2 was a big improvement over the original Smok Novo. The battery nearly doubled in size from 450mAh to 800mAh. The pod design was notably upgraded. The Smok Novo 2 has actual coils of varying sizes. You can still see puffs of cotton polyfill in the original Smok Novo vape pods.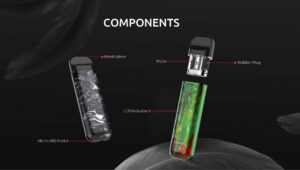 The popular Smok Novo was followed by the nearly identical Smok Novo 3. Both the Novo 2 and Novo 3 are powered 800mAh batteries. The kit for both came standard with 0.8ohm pods. Physically, they are not easy to tell apart, the text on the back of the device is probably the only way, unless you have spent time studying their respective air grooves.
Both devices shared a 2ml pod capacity and a peak output of 25 watts. This wattage could not be adjusted and there were no buttons at all on the first three generations of Smok Novo. Despite being nearly identical, the Smok Novo 3 is an upgrade on the Smok Novo 2. The slots for the airflow have been improved and so has the pod design. If given of choice of one to buy new, the Smok Novo 3 is the better option. It also has a higher quality feel in the hand. But if a Smok Novo 2 is what you have already or what is available, rest assured that you are enjoying very similar performance.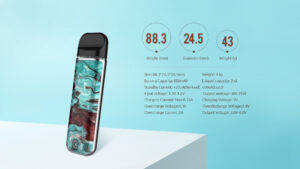 Smok Novo Family
What all three generations of Smok Novos had in common was form factor and function. They are cross compatible and proved a perfect alternative to disposable vapes or prefilled vape pod kit like a Juul, Vuse Alto or MyBlu.
Any advances between the Novo 2 and Novo 3 have been blurred by the interchangeability of the improved pod designs and the expansion of the Smok Novo 2 pod selection.
Compatibility and imperceptible change are not the norm in the vaping industry. Smok Novo 3 marked an unusual adherence to the status quo. This is not the case with Smok Novo 4.
The philosophy and performance of the Novo 4 and Smok Novo 3 are similar, but the Novo 4 offers a couple upgrades that are impossible to miss. Another big change, the Novo 4 is a slightly larger device and not compatible with the previous generations of Smok Novo pod.
Smok Novo 4 Specs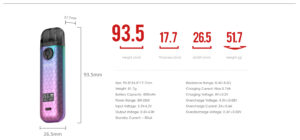 The previous three generations of Smok Novo designs all have swappable pods with a fixed coil. The coils are long lasting and are generally used to vape 50/50 salt nic juices at less than 25 watts. But when the end of the service life is reached, the entire Smok Novo pod is pitched in the trash. While not as wasteful as a disposable vape, the durable plastic pod clearly could be repurposed with a new coil.
The Smok Novo 4 is the first member of the Novo family of vape pod kits to use swappable coils. This is a huge deal, as the swappable coils are from the Smok LP1 collection. LP stands for leak-proof and considerable effort was put into making these leak resistance devices.
With a press fit coil design, the last thing you want is a leaky device. The reliable Smok Novos of the past did have a reputation for leaking and issues with e-juices collecting in the autodraw mechanism. This issue primarily impacted the first generation of Novo pods, but this did not stop Smok from tripling down. Each Smok Novo 4 LP1 coil has three silicone stoppers.
Smok Novo 4 Features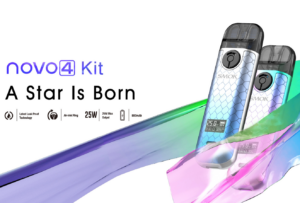 Like the Smok Novo 2 and Smok Novo 3, the Smok Novo 4 is also a 25-watt device. The battery remains 800mAh. As far as appearance, the Smok Novo 4 has a totally different look thanks to a legible 0.49" OLED screen. The screen allows adjustable wattage and for the Smok Novo 4 has a lock button that also allows you to adjust the wattage. It is still a draw activated device without a fire button.
Another obvious change is the inclusion of an adjustable airflow dial on the front. It has always been possible to manipulate the draw on a vaping device by covering holes with your finger or similar expedients. These can impact the reliability when it is a draw activated device. There is no need to improvise with the Smok Novo 4. The airflow settings are clear as day and front and center on the device.
Smok Novo X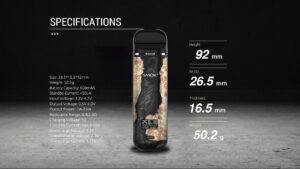 With the OLED screen and slightly larger size, the Smok Novo 4 appears to be a closer relative of the Smok Novo X than the Smok Novo 3. Unfortunately, these devices are not cross compatible and Smok Novo X users will not be able to take advantage of the Smok Novo 4 pods or LP1 coils.
The Smok Novo X had previously been the odd man out. It was a Novo in name but not compatible with previous Novo designs. On paper, it was very similar with a battery rated at 800mAh, 25 watts output and the standard pods featuring coils with 0.8ohm resistance.
The Smok Novo X featured a zinc alloy chassis which had a higher-quality feel than Novos 1, 2 and 3. But I always preferred the Novo 2 and Novo 3 over the Novo X, despite the cool adjustable wattage option.
The wider coil openings and airflow on the Smok Novo X result in a looser draw. This is great if you are using the adjustable wattage to ramp up the power and vape max-VG e-liquids. It is not such a feature when you are looking for a taut draw and flavorful nicotine salts.
Mouth to Lung (MTL) versus Direct Lung (DL) Vaping
The Smok Novo 3 and Smok Novo 2 both have nice MTL draws. For those not familiar with the jargon, this describes how restricted the airflow is when you inhale. A big box mod with wide open air flow shoots vapor straight into your lungs. This is direct to lung or DL vaping. A tighter draw is more akin to a combustible cigarette, allowing the flavor to linger in your mouth before being fully inhaled. This is mouth-to-lung (MTL) vaping.
Most vape pods allow for some combination of both. It really sticks out when the airflow is not restrictive on a pod device. The Smok Novo X strays into this area and is a bit open in comparison to its siblings. This forces vapers who prefer a more restrictive MTL vaping to rely on expedients such as of covering an airflow intake on the side of the device. While this solves the airflow issue, it can place additional pressure on the draw activation and make it more like that e-juice will end up in the intake.
With the addition of the Smok Novo 4 to the lineup, it is unclear what the future has in store for the Smok Novo X. It has a nicer feel than a Smok Novo 2 or Smok Novo 3. But it lacks the air intake ring and swappable coils of the Smok Novo 4.
Smok Novo 4 Coils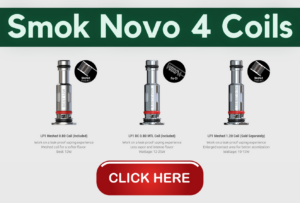 The Smok Novo 4 cores and device were designed from the ground up to have adjustable air flow. In terms of other technical specifications, the Smok Novo 4 is like its predecessors. It is also powered by an 800mAh battery, the pods have a 2ml capacity, standard coil has a resistance of 0.8ohms, the range of power is 5 to 25-watts, the pod is side filled, and even the size is comparable. But the addition of adjustable wattage, USB-C charging and swappable coils makes the Smok Novo 4 a much more modern device.
With three silicone rings, the LP1 series of coils used in the Smok Novo 4 are designed to remove any lingering concern about leakage. While it may behoove a vaper to invest in empty replacement pods if they swap flavors on a regular base, the reusable pod is very easy to clean. If you stick with one e-liquid flavor, the one pod included will last you for a long time. The press fit coil opening provides a large enough hole to really clean the pod.
There are three Smok LP1 Coil designs currently available. The flagship is the Smok LP1 Meshed 0.8Ω Coil. Operating best at 12 watts, this is an exceedingly efficient design. The wide surface area of the meshed coil allows for great vapor production and flavor at a low wattage. Especially for medium and lower strength nic salts, this is a perfect coil. The Smok Novo 2 and Smok Novo 3 also come standard with 0.8Ω mesh coils but this is Smok's best Novo coil yet.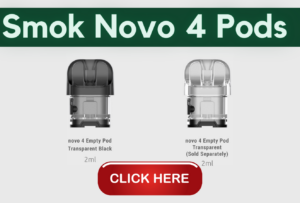 Smok LP1 Coils
The Smok Novo 4 vape pod kit comes with a second coil design as well. This is the Smok LP1 DC 0.8Ω MTL Coil. Both coils are compatible with the single pod included in the kit. This is a different philosophy than the Smok Nord 4 and Smok RPM 4. These come with two pods which are compatible with different coil sets. But they are also larger and more powerful devices, designed serve multiple styles of vaping. The Smok Novo 4 is a MTL machine. It has the power to handle Max-VG e-liquids but is generally going to tasked with vaping salt nic juices.
LP1 DC MTL
Why does the Smok Novo LP1 coil family have a 0.8Ω DC round wire coil and the seemingly more sophisticated mesh coil? The answer is simple. The DC Coil works at higher wattage, between 12 watts and 25 watts. The draw is similar between the two. At its higher wattage numbers, a setting option that wasn't available on the Smok Novo 3, if anything the Smok LP1 DC MTL coil generates marginally better vapor and flavor than the meshed design. But the differences are subtle and using a higher wattage setting will drain your battery faster.
The final LP1 coil is not included in the Smok Novo 4 Vape Pod Kit but can be purchased separately. This is the Smok Novo LP1 Meshed 1.2Ω Coil. Operating at 10 to 15 watts, this is the highest resistance coil available and is ideal for potent salt nic juices. Both meshed coils are made from FeCrAl ferrochrome alloy. The DC wire coil is made from Fe-Cr.
Even with the added technology, this is an intuitive device to use and makes a great alternative to disposable vapes. The button does not fire the device but five clicks with lock and unlock it. Two or three clicks will start the power adjustment menu. Each click is half a watt. The airflow control is a simple dial on the front of the device
Smok Novo 3
With adjustable wattage, air flow, new coil design, swappable coils, USB-C charging, and enhanced airflow, is there a case to be made for the Smok Novo 3 and the similar Smok Novo 2?
The answer is yes. The Smok Novo 2 and Smok Novo 3 are more pared down devices. This makes them less intimidating to a novice vaper and adults looking to switch from combustible cigarettes to e-cigs. While swapping the entire pod is wasteful, it is also easier. The wattage (5 to 25 watts) and battery (800mAh) are the same. Compatibility with all the previous Smok Novo pods is also a huge feature.
The pod you will probably want to use in the Smok Novo 3 is the Smok Novo 3 0.8Ω Meshed pod. It is an exceptional design that does not give up much in terms of flavor or vapor when compared to the Smok Novo 4 LP1 Mesh. The air intakes grooves on the Smok Novo 3 are improved compared to the Smok Novo 2. It is a subtle difference, especially when compared to the vast change in appearance and functionality provided by the Smok Novo 4
Smok Novo 2
The Smok Novo 2 has been my salt nic vape of choice for several years now. I am a fan of the Vaporesso XROS Mini as well, which is about as direct as a direct competitor can be, but a backlog of empty pods and reliable performance has kept the Smok Novo 2 in my pocket and loaded with e-liquid.
Everything about the Smok Novo 2 design is efficient and works perfectly. It is compatible with Novo 3 pods, and the archaic looking pods from the original Smok Novo. It is an extremely compact design. At only 88.3ml in length, it not only fits in your front pocket but fits in that little change pocket in blue jeans.
The draw is perfect for lower strength nicotine salts, but I have found it can handle 70 percent VG e-liquids without any difficulty. You will see occasional complaints about leaking. I have run a Q-Tip through the connections area a couple times, probably fewer times than recommended and have never had an issue. My Smok Novo 2 has been dropped more than it has been cleaned. The device is light. Even my unfortunate oldest one, I have three, that has taken the most bumps still runs fine- although the colorful facia is now a bit loose.
Final Thoughts
As an easy-to-use starter kit that can serve as the best disposable alternative, it is hard to beat the Smok Novo 2 and Smok Novo 3. They have no complications. There is no fire button. They are autodraw. They are easy to fill and work perfectly with nicotine salts. The whole pod is pitched once flavor fades. It is basically a disposable that can be refilled and charged or a refillable Juul, depending on how you look at it.
The Smok Novo 4 marks the first major upgrade on this design. With adjustable wattage, adjustable airflow, swappable coils, and USB-C charging it is the technically superior device. None of these features are hard to master either. If a display and air flow dial seem like too much for a vape pod kit, they can always be ignored, and you can simply use it like you would the original Smok Novo.
Vaporesso XROS
While viewed in vaping circles a UWell Caliburn fighter, the original Vaporesso XROS is a direct competitor to the new Smok Novo 4. It also has an adjustable airflow, 800mAh battery and several excellent pods. The top-fill system is very easy to use. It gives up a bit in the power department on paper, with a range between 11 and 16 watts. It does not have an OLED screen or adjustable wattage. The original Vaporesso XROS has dual-firing capabilities, just like the UWELL Caliburn. This means it functions as a draw activated device but also has a fire button.
Vaporesso XROS Mini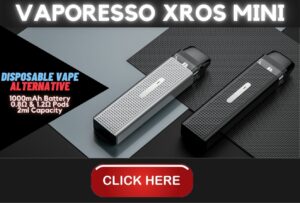 The Vaporesso XROS Mini is probably more comparable to a Smok Novo 2 or Smok Novo 3. It is one of the best disposable vape alternatives on the market. It is more pen-shaped, retains the top-fill design and is compatible with all the XROS pods. These include an improved 1.2-ohm pod that is perfect for salt nic juices. There is also a 0.8ohm pod. Like the Smok Novo pods, this is in theory sub-ohm vaping and far removed from the high wattage box mods of the world.  The 0.8ohm coil is designed for regular freebase e-liquids with a lower nicotine strength but also works great with lower strength nic salts.
Despite its diminutive size, the Vaporesso XROS Mini has the biggest battery of the bunch 1000mAh. If you are looking to replace a prefilled vape pod kit like a Juul, Vuse Alto, or MyBlu, the Vaporesso XROS Mini has a similar stick style form factor and compact size. But being refillable, it is easy to save by making the switch.