Smok Nord 4 versus Smok RPM 4
If you are an adult vaper who switches between salt nic juices and max-VG juices, a sub-ohm tank and box mod may not be the ideal device for you. While a box mod offers unmatched power, you should never vape nic salts out of one. Moreover, they can be a bit bulky.
This is where the ever popular refillable vape pod kit steps in. The first generation refillable vape pod kits were little more than refillable nicotine salt conduits, essentially a refillable version of Juul. This could save you a lot of money but limited the style of e-liquids you could vape. It was technically possible to enjoy max-VG juices from an old Smok Novo, but it was not built for this.
Today, it is disposable vapes that have taken the vaping market by storm. With a federal ban on flavors in prefilled vape pods, they are still available in the sweet e-juice flavors that adult vapers prefer.
Smoktech has a substantial lineup of vape pod models. The Smok Nord 4 and Smok RPM 4 both share lineage with extremely popular predecessors. They are roughly the same size. Both are come with two pods and each pod is compatible with a specific set of coils. In the case of both, the RPM coil family is one of the pod options. But there are differences that are worth exploring before you decide which one better suits your needs.
Best Disposable Vape Alternative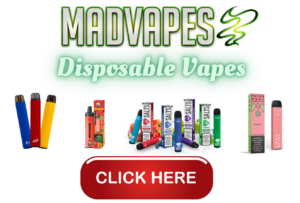 With the popularity of salt nic juices, it is natural that many adult vapers will gravitate towards small and efficient vape pod kits like the Vaporesso XROS Mini and Smok Novo 4. We reviewed several of these in our showdown of the Best Vape Pods for Salt Nic Juice. But max-VG juice vapers also enjoy the sleek lines and compact designs of the refillable vape pod kit. Therefore, many manufacturers have launched powerful pod mods that can nearly match box mods in terms of vapor production.
Salt Nic Juices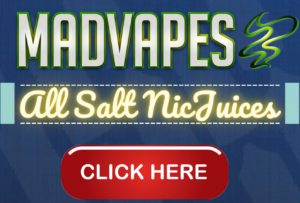 Salt nic juices are the reason vape pods came into being. A quick primer, nicotine salts are created by adding benzoic acid to the freebase nicotine used in standard max-VG e-liquids. This lowers the pH level and allows the nicotine to cross the blood brain barrier more readily. The lower pH level means that much higher concentrations of nicotine can be added to an e-juice without making it too hard to tolerate. There is no reason why small quantities of nic salts can't be used in max-VG juices. But generally, the advantage is in the ability to add more.
This is why most salt nic juices have a nic strength between 25 and 50mg. E-Juices with this much nicotine should not be vaped out of box mods and sub-ohm tanks. They also are not suitable in the vape pods below when the wattage is turned up and a low-resistance coil is installed.
Tobacco Free Nicotine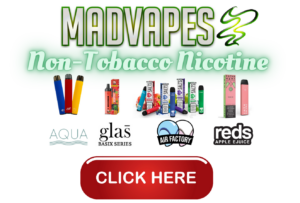 There are also synthetic nicotine e-liquids. These can be either max-VG freebase juices or salt nics. The use of non-tobacco nicotine is all that sets these e-juices apart from tobacco derived e-liquids. Tobacco Free Nicotine (TFN) is actually a brand of non-tobacco nicotine made by next generation labs.
What is a Refillable Vape Pod Kit?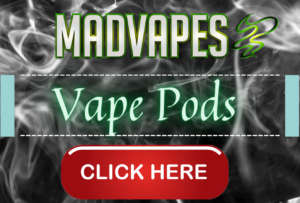 When we deep-dive the Smok Nord 4 and Smok RPM 4 below, it will become clear that they can match the performance of a vintage tube mod and even some box mods. What is the difference between a mod and pod?
A vape mod has standardized threading and uses a tank. The tank need not be sub-ohm, although most designs and mod coils are, but it does have to use 510 threads. This gives the user the flexibility to mix and match their favorite tank and mod combinations.
Vape pods do not offer this flexibility. The pods we review today have swappable coils used in multiple devices but the coils themselves must be inserted into a proprietary refillable pod design. Both the Nord 4 and RPM 4 can use RPM coils. But a Nord 4 cannot use an RPM pod and vice versa.
At its most basic level, a refillable vape pod kit is a device with a refillable pod that is only compatible with that line of devices. There is no way to affix an XROS pod on a Novo.
What is a Pod Mod?
A pod mod is a mix between a pod and mod. What is the difference between a pod mod and an AIO? Mostly marketing preferences, a pod mod should have adjustable wattage and at least one low resistance coil option. Keep in mind that RPM, an acronym Smoktech uses for coils and devices, stands for Real Pod Mod. It is clear Smok's vision of a pod mod includes swappable coils. Both devices today reflect that preference.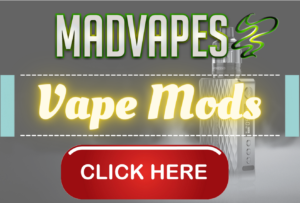 The Smok Novo 4, the most recent entrant in the Smok Novo family, now has swappable coils at all. It is not inconceivable that Smok will do away with the classic vape pod design entirely. It is wasteful to throw away a durable plastic pod because the coil inside has worn out. As much as I like the efficiency and ease provided by a pod that is tossed when its service life has ended, the swappable pod approach is more environmentally friendly.
What is an AIO Vape Pod?
An AIO is a vape pod with swappable coils. Or at least that is typically how it is defined. These are not exactly terms of art. The original vape pods did not have swappable coils and there were leaking issues with some early models.
This issue has been addressed. Smok now has several lines of LP coils. The LP1 is compatible with the Smok Novo 2. The Smok RPM 4 comes with two pods. One of these pods is compatible with the classic selection of Smok RPM coils. The second works with LP2 coils. LP stands for "leak proof". There is really no such thing as totally leak-proof in the world of vaping, but they have come a long way from some notorious juice dumping tanks. There are three levels of stopper to prevent unwanted leakage.
Smok RPM 4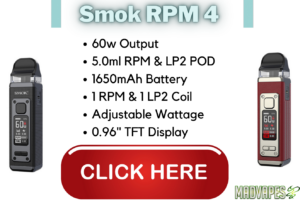 On paper, the Smok RPM 4 is slightly less capable than a Smok Nord 4. But this does not mean it is not a formidable piece of vaping hardware. With a built-in 1650mAh battery, it has a maximum output of 65-watts.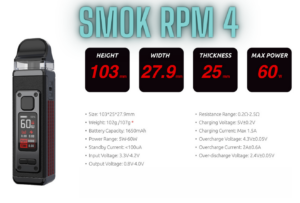 With a surprisingly large 0.96" TFT display, the Smok RPM 4 gives you easy access to wattage adjustment, puff counts, battery life and coil resistance. The rectangular shape is easy to hold and store. The e-liquid capacity of RPM 4 is 5ml. It shares a lot of DNA with the original Smok RPM 40 but is a huge upgrade. What it shares is compatibility with the wide range of Smok RPM Coils. It also works with the newly launched family of LP2 coils.
Smok RPM 4 Pods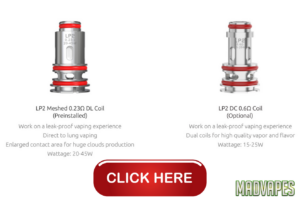 The Smok RPM 4 Vape Pod Kit comes with two pods. One pod is compatible with RPM coils and the other is compatible with LP2 coils. Both pods hold 5ml. The pods are swappable and press fit. There is a side fill slot that is plugged with a silicone stopper.
If you are looking to vape salt nic juices in your Smok RPM 4, you are probably going to be limited to the RPM pod. There is a legendary and beloved 1.0ohm single coil and the 1.2ohm Quartz Coil. Both are sold separately.
The Smok RPM 4 comes with a 0.6ohm RPM coil and the Smok LP2 0.23ohm Meshed Coil. The LP2 is not going to be useful for salt vapers. It runs between 20 and 45 watts. Unless you run it below its recommended power, have an unusual resistance to nicotine or use lower nic strength salts, it will quickly ruin your day if you try to vape 50mg nic salts out of it. This is to be avoided. The 0.6ohm Coil is also for freebase max-VG juice. Operating between 15 and 25-watts, it can vape lower strength nic salts in a pinch, but the purpose built salt nic coils are much more effective.
Smok Nord 4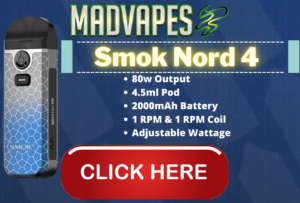 The Smok Nord 4 is an amazing piece of equipment. It does not get the "Real Pod Mod" moniker that RPM coil family gets but with an output up to 80 watts, it probably deserves it. The built-in 2000mAh battery is impressive, especially considering the size of the device. There is a screen for controlling wattage, the range is 5 to 80 watts.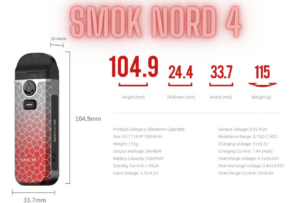 Out of the box, the Smok Nord 4 comes with two pods and two coils. Both coils are low resistance. With a greater power output, the Smok Novo 4 is clearly designed to put through its sub-ohm paces, although it is equally capable of vaping salt nic juices as the Smok RPM 4 when the RPM 4 higher-resistance coils are used.
The e-liquid capacity of the Smok Nord 4 is 4.5ml. The OLED screen is very clear and easy to use, although significantly smaller than the RPM 4's TFT.
Smok Nord 4 Coils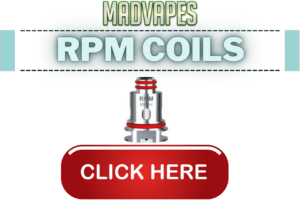 The Smok Nord 4 comes with a pair of pods and a pair of low-resistance coils designed for max-VG juices. The 0.16ohm RPM 2 coil and the 0.4ohm RPM coil are installed in their respective pods. Neither of these coils are suitable for vaping salt nic juices. You can always order a 5-pack of RPM 1.0ohm SC coils if you want to switch between nic salts and freebase.
Versatility is the name of the game, as the 0.16ohm is a cloud belching monster. The ramp up time is quick, and the flavor is perfect. It can take full advantage of the Smok Nord's power band.
Final Thoughts
On paper, the Smok Nord 4 gets the edge. It can use the same high-resistance RPM series of coils to vape nic salts. It has a larger battery and comes with a low-resistance 0.16ohm coil which is at the cutting edge for vaping max-VG juices in a vape pod. The 20 watts greater output and 350mAh larger battery are significant increases.
In terms of form factor, it is close. The Smok RPM 4 has the bigger screen and has a larger e-liquid capacity. Whether 5ml or 4.5ml, that is a lot of salt nic, but the larger tank can make a difference when burning through max-VG juices at higher wattage.
They are close in terms of dimensions. If you have a strong preference for form factor, that should inform your final decision.
The fact is that neither device currently has a coil that operates at the top-end of their power band. Until there is an 80-watt coil, the Nord 4's true power will remain largely untapped. The primary deciding factory is battery size and coil preferences. Both use RPM coils, so it boils down to the RPM 2 versus LP 2 family. But as these are of the same generation, there is not much separate them.