Description
Innokin Gala Replacement Pod
This listing is for one (1) Innokin Gala Pod System Replacement Pod.

The Innokin Gala Replacement Pod is offered in two pod variations, a 0.5 ohm pod meant for vaping regular freebase or salt nic e-liquids and a ceramic 0.8 ohm pod designed for salt nicotine or CBD e-liquid. Each pod can accommodate up to 2ml of juice respectively. Located at the base of the replacement pod is a simple fill port, allowing users to keep their pods topped off at all times.
Gala Replacement Pod Product Features:
2ml Maximum Capacity
Bottom Fill Port
Click-in-Place System
10mm by 3mm Bore Mouth Piece
Gala Pod System

PLEX3D Pod

0.5 ohm
Salt Nicotine or Freebase

Ceramic Pod

0.8 ohm
CBD E-liquid or Salt Nicotine

Pod Life-Span 14 Days
Compatible with Salt Nic E-Liquid or Regular Nicotine E-Liquid
Powered by advanced PLEX3D next generation mesh coils. Plex3D extends coil life and boosts flavors.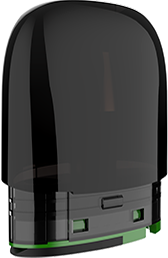 The Gala Ceramic Pod for freebase, nic-salt and CBD eliquid.
Replacement pod for the Innokin Gala Kit. Sold Individually