Refillable Vape Pod Kits
Most adult vapers just want a flavorful and satisfying vape that is easy to use. There is an overwhelming preference for fruit and beverage flavors over tobacco and potent nicotine salts are extremely popular. The reason is simple. The higher nicotine strength allows smaller devices to deliver satisfactory performance. A smaller device is easier to carry and creates less noise and vapor.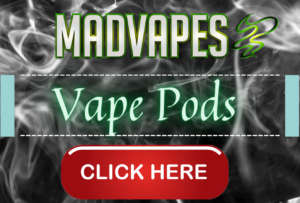 The popularity of refillable vape pod kits directly coincided with the availability of salt nic juices. The first generation of vape pods were compact e-cigs with a taut mouth-to-lung draws and high-resistance coils. The earliest refillable vape pods did not have swappable coils. Instead, you pitched both tank and coil when the end of the service life was reached.
It was was technically possible to vape freebase nicotine e-liquids and max-VG e-juices in an early Smok Novo or Aspire AVP, this was not the purpose for which they were designed. They had very small coils and the cotton wicking was even visible.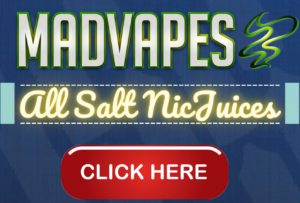 This first generation of vape pods existed to compete with prefilled vape pods like Juul and the Vuse Alto. Technology and vape pod designs have advanced to the point where there are pod mods with low resistance coils and outputs approaching 100 watts. Some vape pod kits even use removable 18650 batteries rather than a built in powerpack. With such a wide envelope of performance, how do we define vape pod?
What is a Vape Pod Kit?
There is a world of difference between a flimsy gas station Juul with its 200mAh battery and a fire breathing Smok Nord 4 with ten-fold the battery capacity and all the features of a box mod.
But it is easy to distinguish a vape pod, no matter its size or power, from a vape mod or e-cigarette. Vape pods use proprietary pod designs that are only compatible with certain devices.
There is no uniformity. The days of putting a Smok tank on a Vaporesso box mod are gone. At best, there is cross compatibility between different generations of the same device or a shared coil family that press fits into vape pods designed expressly for a single device.
In terms of marketing, this is brilliant. If you want a new pod for your Suorin Air, you must buy one made by Suorin. There is no off-brand option or shopping for different model. If you want to switch pod designs between manufacturers or product lines, you are going to have to buy the whole kit.
While the consumer would seem to be the loser here, the convenience of vape pods far outweighs this concern. The ability to customize the shape and capacity of vape pod gives designers a much larger canvas to work with when compared to the constricted size of a classic e-cig.
Vape mods and e-cigarettes on the other hand use standardized threading. The cartomizer or tank attaches to the battery through a male-female threading system. At one time, e-cigarettes were available with several types of threading. But e-cigarettes and vapes with their eGo, 510 and 808 connections have largely been replaced with vape pod kits.
Pod Mods
A less clearer defined term is pod mod. When you see the name Smok RPM, keep in mind that RPM stands for "Real Pod Mod'. The commonly accepted definition of a Pod Mod is a vape pod with swappable coils. Such devices are also called AIO or All-in-one.
Power is not necessarily a defining factor. We chose to include the Smok Nord 4 rather than the Smok RPM 4 in this comparison despite the Smok RPM 4 being compatible with the same nic salt friendly coils and has 20 fewer watts of output. There is overlap between the two devices, if you like one you will surely like the other.
Prefilled Vape Pod Kits
The original refillable vape pods were direct competition for the popular prefilled vape pods sold at gas stations. Using the same style of e-liquid, salt nic, they offered huge savings. A 30ml bottle of salt nic juice is equivalent to almost FORTY-THREE Juul pods. Their performance and flavor were also superior. Their batteries longer lasting. You could also select any e-liquid you wanted and multiple nicotine strengths. With prefilled pods, 50mg was the only nicotine strength option for several years. They were also simple as can be. They were draw activated. The only user inputs were charging, filling, and occasionally replacing the pod.
Refillable pod technology has advanced considerably in the last five years. One major change is that refillable vape pods, referred to as "open" systems in FDA parlance, are the only game in town if you want to vape the sweeter e-juice flavors that adult vapers prefer and want to avoid the waste of disposable vapes.
A federal ban on flavors in prefilled pods and carts removed all the most popular Vuse, Juul Alto and MyBlu flavors from the market. This left only tobacco flavored nic salts.
Vape Pod Kits
There has been a huge expansion in the capabilities of refillable vape pod kits. It is still easy to find smaller devices that are designed for nic salts from the ground up, even these vape pod kits usually have a lower resistance coil for vaping max-VG juices.
At the high-end of the power spectrum, there are sub-ohm coils and 80-watt vape pod kits.
These pod mods can replace a box mod. With their sub-ohm coils installed, they are no more suitable for nic salts than a vape mod with a sub-ohm tank. But with the right coil, they capitalize on adjustable wattage and can provide an excellent salt nic vaping experience.
Disposable Vapes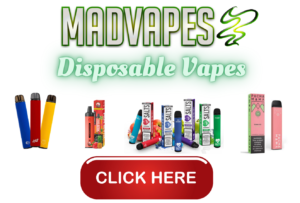 The federal flavor ban has made prefilled vape pods only available in less adult appealing tobacco flavors, but disposable vapes have emerged in their place. Even easier to use than a prefilled vape pod, an adult vaper does not even have to swap pods or charge a disposable vape. You simply open the packaging, remove a few silicone stoppers, and vape. They were priced competitively with pre-filled pods as well. The original Puff Bar had nearly twice the capacity of Juul pod. The fact the flavors were so good was a cherry on top for adult vapers who wanted to enjoy their favorite e-liquid flavors.
In 2021, refillable vape pods are competing head-to-head with disposable vapes. It is worth noting that the only reason disposable vapes are competitive is the use of nicotine salt e-juices. These are much more potent and allow a device with minimal vapor production provide a satisfying performance. Before nic salts, disposable vapes were an exercise in futility for most adult vapers.
The original Blu E-Cig used freebase nicotine at a level comparable to a modern nic salt. But breebase nicotine has a higher pH level and is very harsh over a certain level. Manufacturers tried to spin this, describing chest burn and throat hit as a feature that lent authenticity rather than a bug. The reality is that with wispy
but coarse vapor and a tiny battery, early disposable vapes struggled to provide a satisfying experience.
Disposable vapes have no problem delivering great flavor and satisfaction. But a refillable vape pod kit can shine with both nic salts and regular freebase nicotine e-juices.
The biggest downside of the disposable vape is that it is wasteful. You throw away the device and battery after it gives up the ghost. Refillable vape pod kits are durable and long lasting. To further minimize waste, swappable coils are becoming more prevalent. This limits the litter created by a refillable vape pod to just the coil. Add in the use of synthetic and Tobacco Free Nicotine (TFN) e-juices, and vaping has never had a smaller carbon footprint than it does today.
Best Vape Pods for Nic Salts
Today we are going to look at vape pod kits that excel at vaping salt nic juices. Each of these devices is incredibly easy to use. While the level of features varies, filling is easy, and the pods are long lasting. Their batteries are good for at least a day of vaping, and they are compact. There are a few
Here are the best refillable vape pods for salt nic juices.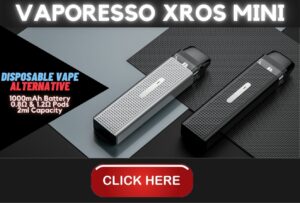 If you want a refillable vape pod kit with the form factor of disposable vape or prefilled vape pod kit, the Vaporesso XROS Mini is a perfect choice. It delivers brilliant flavor, is reliable and easy to use.
The Vaporesso XROS Mini has a larger battery than the standard XROS. The 1000mAh battery combined with an output of 16 watts is going to get you a lot of puffs per charge.  The original Vaporesso XROS was very similar to the UWELL Caliburn. It had both a fire button and could function as an autodraw.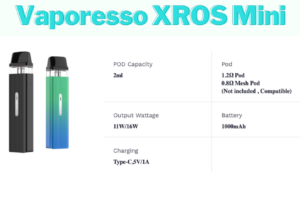 The XROS Mini has the same output and technology as the regular XROS. Unlike the full-sized Vaporesso XROS, the Vaporesso XROS Mini is autodraw only. This allows a smaller device to provide nearly identical performance. For a complete deep dive, check out our featured Vaporesso XROS Mini review. The primary advantage of the larger XROS is that it has adjustable airflow.
Vaporesso XROS Pods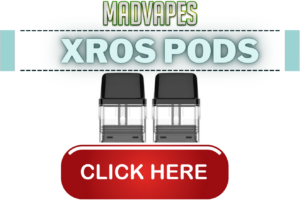 The Vaporesso XROS and XROS mini come standard with pod that contains a 1.2Ω coil. The This coil and pod design was improved for the XROS Mini but is backwards compatible with the nearly identical XROS. There is also an excellent XROS 0.8Ω pod. The coils cannot be swapped out in the XROS. Once the coil is worn out, the entire pod is tossed in the trash. Vaporesso XROS Pods are critically acclaimed for their flavor and long life.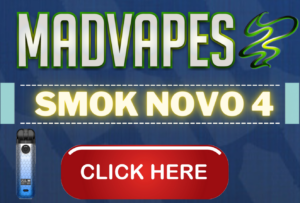 The Smok Novo 2 and Smok Novo 3 were nearly identical. The Smok Novo 4 is a huge upgrade in terms of technology and features. While this may make it a bit more daunting for a novice vaper, there is a payoff. The swappable coils, adjustable wattage and adjustable airflow make the Smok Novo 4 a much more well-rounded device.
We pitted the Smok Novo 3 versus the Smok Novo 4 in a recent feature. We discovered underneath the hood there remain a lot of similarities. Both Novos have 800mAh batteries and an output of 25 watts. But the coil design of the new Novo 4 is improved. Alas, it is no longer backwards compatible with previous generations of Smok Novo vape pod kits.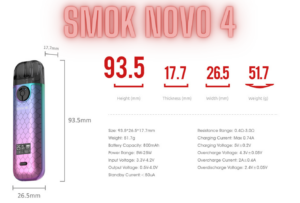 The Smok Novo 4 is not much bigger than its predecessors. It has an extraordinarily clever adjustable airflow dial. It also has adjustable wattage, thanks to a clear and usable OLED screen. It remains a draw activated but now has a lock button. This same button can be used to navigate the menu and increase the devices power at 0.5 watt increments. It also has a puff counter and gives displays battery life and coil resistance.
Smok Novo 4 versus Smok Novo X
The Smok Novo 4 more closely resembles the Smok Novo X in terms of size. Both have OLED screens. But the adjustable airflow of the Smok Novo 4 and swappable pods give it a big edge over the Novo X. The Novo X has a loose draw for a vape pod kit, perhaps being designed with max-VG juices in mind. For whatever reason, these close to Novos are nearly identical sizes but their pods are not compatible. The Novo X uses pods with a fixed coil, which contrasts with the press-fit coils that are inserted in Smok Novo 4 pods.
Smok Novo 4 LP1 Coils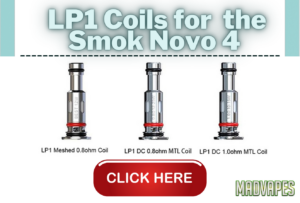 The use of new swappable coils is one of the biggest features of the Smok Novo 4. The new generation of Smok Novo pods use the LP1 series of coils. LP stands for leak-proof. A great deal of effort was dedicated to making sure that the e-liquid stays where it should, inside the tank. A triple layer of silicone washers holds the press and play coils in place. It is easy to clean an empty Novo 4 pod through the where the coil is inserted.
The side fill system remains the same and it is slightly bigger, but not overly large. There are two LP1 coils included in a Smok Novo 4 vape pod kit. The flagship is the LP1 0.8 Ω Mesh Coil. It runs at 12 watts. This is an extremely efficient way to vape, generating big flavor and satisfying performance without burning much e-liquid or battery life.
There is also the LP1 DC 0.8Ω DC coil, which works at up to 25 watts. At this higher wattage setting it is quite comparable to the mesh coil and perhaps even better in terms of performance. But it burns more e-juice as a result and drains the battery quicker. You have control over all of this with the adjustable wattage.
The final LP1 Coil is not included in the Smok Novo 4 kit but might be the most suitable for 50mg Salt nic juices. The LP1 DC 1.0Ω MTL Coil. Like the 0.8ohm DC Coil, this is not a mesh coil and it operates at 12 to 25 watts. It has great flavor and tighter draw. If you are looking for the most pared down and flavorful experience, this is the pure Salt nic juice coil.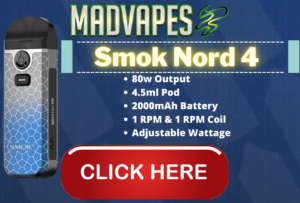 Versatility is what the Smok Nord 4 is all about. It has adjustable power settings, 5 to 80 watts, and adjustable airflow. It is not an autodraw like the other devices reviewed but otherwise can do everything that smaller Smok Novo can. It mostly boils down to personal preference, as the coils are not identical and somewhat larger.
As it arrives in the box, the Smok Nord 4 comes with two low resistance coils and two pods. The pods are an RPM 2 pod compatible with RPM 2 coils, and an RPM pod which is compatible with RPM coils.
The Smok Nord 4 vape pod kit also comes with two coils. Both coils work a little stiff for nic salts, especially 50mg strength. They are designed to take advantage of the Smok Nord's impressive 80-watt peak output and 2000mAh battery. These coils are the 0.16 Ω RPM 2 Mesh Coil and 0.4Ω RPM Coil. Neither of these is suitable for salt nic vaping.When equipped with the 0.16Ω RPM  2 Mesh Coil, the Smok Nord 4 should be viewed as equivalent of a box mod.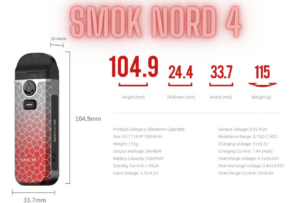 But anyone familiar with the Smok Nord family knows that versatility is the name of the game. The RPM pod is compatible with the entire lineup of RPM coils. Affordable and widely available, this coil collection has some great options for salt nic vapers. The combination of the Smok Nord's big 2000mAh battery, adjustable wattage (it can go as low as 5 watts), and 4.5ml e-liquid capacity make for a very long-lasting salt nic vape.
RPM Salt Nic Coils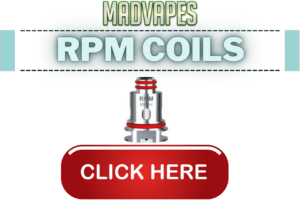 The RPM Coil family converts your Smok Nord 4 into a powerful yet refined salt nic vaping machine. They feature a wide variety of options that are suitable for any vaper. For lower nicotine salt nic juices there is an RPM 0.6 Ω Triple Coil. This coil is probably a little powerful for most nic salt users as it works best at 25 watts.
The RPM 1.0 Ω SC Coil is perfect for salt nic vapers. It works at 14 watts and allows the mighty Nord 4 to compete toe to toe with its less powerful and sophisticated rivals. It delivers dense flavor and has a nearly perfect draw. The second nic salt coil option for the RPM pod is 1.2Ω Quartz Coil. Boasting purer flavor and faster ramp up time, this coil works at 12 watts. Suffice to say, with the 4.5ml pod full of nic salts and running at 12 watts, a Smok Nord 4 is going to last a long time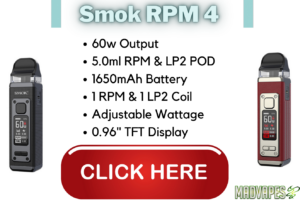 The Smok RPM 4 deserves honorable mention. It is a 60 watt device and has a 1650mAh battery. It gives up a bit of horsepower to its stablemate the Smok Nord 4 but has plenty of oomph to compete with the best vape pod kits on the market. Like the Nord 4 it uses swappable coils and the pod itself is reused.
It is an attractive rectangular vape pod kit with a large screen. The 0.96 inch TFT display is huge and legible. The airflow can be controlled by a slider. This innovation allows you to switch between direct lung and restricted direct lung vaping.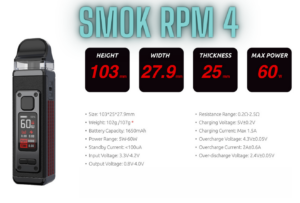 The e-liquid capacity of the Smok RPM 4 is 5ml. It uses the same strategy as the Smok Nord 4. In fact, the innovation of a vape pod kit coming with two different pods that are compatible with totally separate coil families was innovated by the RPM 4's predecessor the Smok RPM 40.
Smok RPM 4 Coils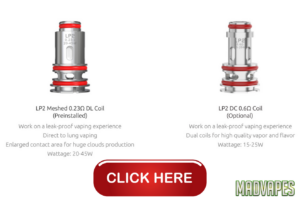 The Smok RPM 4 is compatible with the same RPM coils that work in the Smok Nord 4. If you are going to use these to vape salt nic, which product you prefer will boil down to the device shape and personal preference. There is not much to separate them. Certainly, you should not testing the higher end of the power band with nic salts in either. To recap, the highest resistance nic salt coils are 1.0ohm and 1.2ohm quartz coil.
What the Smok RPM 4 does have is a whole new family of LP2 coils. Just like with the Novo 4, LP stands for leak-proof. Rigorous testing and considerable effort was put into making sure these coils and the pod do not leak. This was a bit of an issue with the Trinity Alpha and some other early forays by Smok into the swappable coil pod mod world. We are happy to report that they have remedied the situation.
The Smok RPM 4 comes with the LP2 Meshed 0.23Ω DL Coil installed. This is a great coil for max-VG juices. It is not to be used with potent nic salts. It makes the RPM 4 equivalent to a box mod. This could operates between 20 and 45 watts.
The other LP2 Coil is purchased separately. It is the Smok LP2 0.6Ω Coil. Operating between 15 and 25 watts, it might be usable for 25mg nic salts but only at the lowest wattage and for the heaviest vapers. With adjustable wattage, you could fire this coil below the recommended wattage but we suggest sticking with the compatible RPM coils and that pod if you vape salt nic juices.
Vaporesso XROS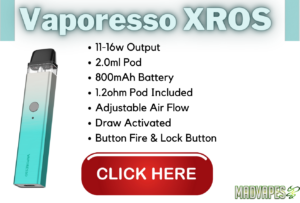 There is not much to separate the Vaporesso XROS for the Vaporesso XRos Mini. They both are compatible with the pods and have the same power output. The XROS is slightly longer but has a smaller battery. Although 800mAh is the same as the Smok Novo 4, the XRos Mini has 1000mAh battery.
The big differences are two-fold. The Vaporesso XROS has an adjustable airflow switch. This is a clever piece of machinery that can really make a big difference.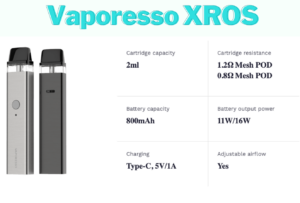 The other difference is that the Vaporesso XROS is dual action. Like the UWELL Caliburn it can function both a autodraw device or as a button fired vape pod kit. This can make a difference if you switch between styles of vaping and e-liquids. If these features appeal to you, the 200mAh battery deficit probably shouldn't be a factor in your decision. In any event, there is also a Vaporesso XROS 2. This pod device retains the fire button, draw activation and the air flow control has been further refined. It also has a 1000mAh battery.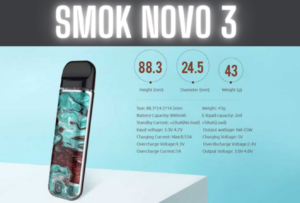 The spiritual heir to the original Smok Novo, the Smok Novo 3 is as basic and easy to use as it gets. It has an 800mAh battery. This is enough power to make it through a day or more. With 25 watts of performance, it can handle max-VG juices in its 0.8ohm pod but is most comfortable vaping nic salts. It has an easy to fill pod design, there are no coils to swap.
The biggest feature of the Smok Novo 3 is the lack of complications. There is a battery indicator light. Full stop. There is no display, adjustable wattage, or swappable coils. Simply snap the pod in place and inhale. The autodraw does the rest. There is nary a button in sight. Nearly identical to the earlier Smok Novo 2, the Smok Novo 3 is compatible with the first three generations of Novo pods.
The Novo 3 is compact enough to fit in your pocket or purse. It is nearly silent when operating and produces minimal vapor. A perfect device for an adult vaper on the go. It is a perfect Juul alternative and maybe the best disposable vape alternative on the market.
Smok Novo 3 Pods
The Smok Novo 3 is compatible with all the pods for the first three generations of Smok Novos. These pods do not have swappable coils. The first generation of Novo pods look positively antiquated at this point, with wicking hanging out the side of a tiny coil. The Smok Novo 2 has the Smok Novo 1.0Ω Mesh and a pair of 1.4 Ω pods. All are quite suitable for salt nic. The best coils for the Novo 3 are the Smok Novo 3 pods. These include a pair of Novo 3 0.8Ω pods. There was originally a classic single coil pod and a mesh coil included in the kit. But the Novo 3 0.8Ω Mesh has emerged as the primary choice for most vapers.
Tobacco Free Nicotine (TFN)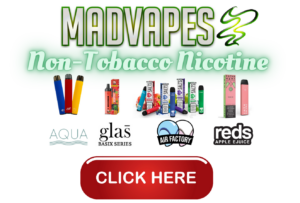 Thanks to advances in nicotine technology, salt nic juices have more flavor than ever. The switch from tobacco-derived nicotine to non-tobacco is a net positive. E-Liquid companies are no longer dependent on Big Tobacco to source their nicotine. This means your bottle of vape juice no longer supports their industrial agriculture.
Tobacco Free Nicotine (TFN) is a trademarked term for Next Generation Labs proprietary formula. But the general sentiment about synthetic nicotine applies across the board. It has a more neutral flavor than tobacco derived nicotine. This means the flavors shine even brighter. All the more reason to update to the best vape pod for salt nic juices.