The Voopoo Drag S, Voopoo Drag S Pro and Vaporesso Gen Nano are formidable Mod Pods which can meet the needs of any vaper. Which one is right for you?
What is a Mod Pod?
What is a Mod Pod? How is it different than a vape pod, vape mod, pod mod, or AIO vape pod? While there is no hard and fast rule, in general Mod Pods can match the performance of vape mod but have the flexibility of a vape pod kit. In the case of two of the devices reviewed, their vape pod can literally be affixed to a mod with a 510 adapter.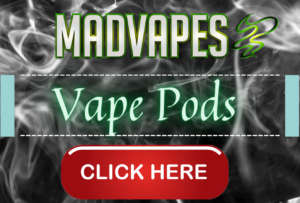 Vape Pods
Vape pods were initially popular because they are easy to use, autodraw devices that are great for vaping salt nic juices. Mod pods should offer similar functionality, even if they have more features because their assignment has expanded considerably.
One reason vape pods even exist is because of sales. Unlike with the 510 threaded tanks found on previous generations of vaping devices, a vape pod is only compatible with pods specifically designed for it. No more vaping a Crown Tank and sending UWell money for replacement cores while using a Smok box mod.
Vape Mods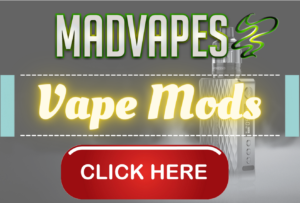 The popularity of vape mods can be linked to the fact that freebase nicotine e-liquids are harsh at higher levels due to their higher pH level. This issue is easily avoided using a vape mod. The max-VG juices used in a classic sub-ohm tank are of a low enough nicotine strength that pH level of freebase nicotine never comes into play.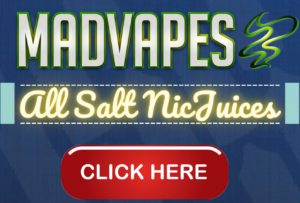 Pod Mods
Vape pod kits with sub-ohm coils and pods have been around for a while. They can handle thicker freebase nicotine. Some of these more powerful vape pod kits even have swappable coils and adjustable wattage. Referred to as Pod Mods, the ability to swap coils rather than replace the whole pod when the coil burns out makes a Pod Mod into an AIO as well.
But enough jargon. Mod Pods are closer in performance to vape mods than a Pod Mod. They can potentially vape nic salts when a high-resistance coil is installed and are smaller than vape mod. They have a menu with buttons to navigate. They have both button fire and autodraw activation. The Smok RPM 80 is an early example of a manufacturer heading in this direction.
Mod Pods are viable because of mesh coils. Do not underestimate what a game changer mesh has been in max-VG juice vaping. Many vape mods still offer upwards of 200 watts of power, but there are very coils that require even half this power. Mesh coils heat up so fast that most operate between 50 and 80 watts and still generate massive amounts of vapor. Lightning fast and efficient chipsets have also allowed vape companies to lower the wattage requirements of their sub-ohm coils.
The Voopoo Drag S family takes the concept of Mod Pod a step further than just a small mod that can conceivably vape salt nic juices. The TPP-X tank comes standard with the Voopoo Drag S Pro and the PnP Tank arrives with your Voopoo Drag S kit. Both attach magnetically to the device like a vape pod. They are cross compatible between the two Drag S devices. They also have an attachment so they can be used with a 510 threaded vape mod!
Voopoo Drag S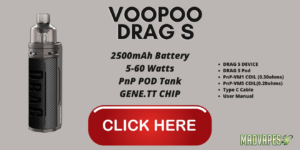 If you are primarily interested in a Mod Pod for its larger battery and salt nic vaping, the Voopoo Drag S might be a better option than the more powerful Voopoo Drag S Pro.  It is the smaller and less powerful device. But it still features an impressive 5-60 watts of power, a 2500mAh battery and the GENE.TT Chip Set. This chip fires at 0.001 seconds. The legible TFT screen measures 0.96". A pair of buttons allow you to navigate the colorful menu and the device can be turned off to prevent pocket firing.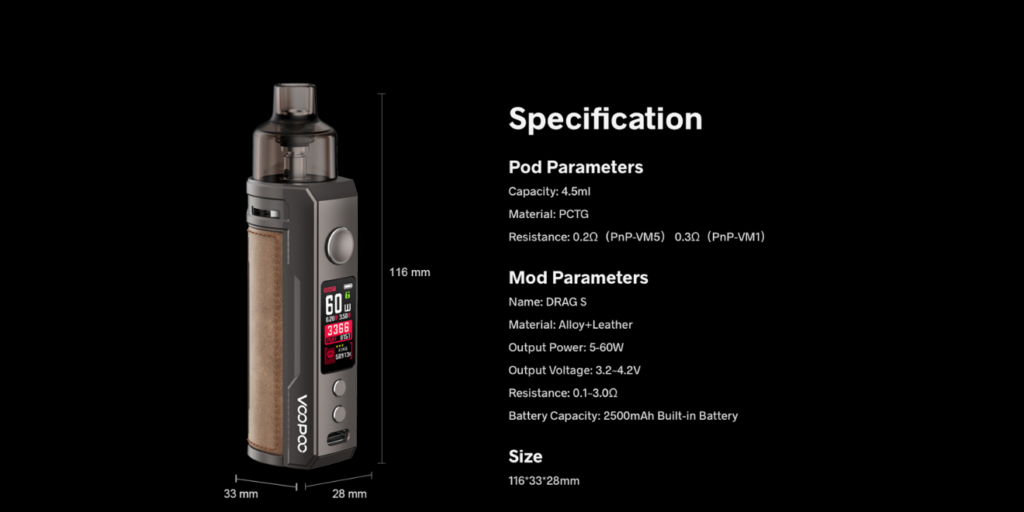 The Voopoo Drag S comes with the PnP Tank. With the 510 attachment, it can be latched onto your vape mod. The tank is also compatible with the Drag S Pro. It has an e-liquid capacity of 4.5ml and attaches to the Voopoo Drag S with magnets.
The Voopoo Drag S kit comes with the 0.3ohm PnP-VM1 Coil and the 0.2ohm PnP-VM5 coil. Neither of these is suitable for salt nic vaping. But as we will see, there are a lot of other PnP coil options.
Voopoo PnP Coil Series
1.2ohm PnP-TR1 Coil – rated for 10-15W (MTL)
0.6ohm PnP-TM1 Mesh Coil – rated for 20-25W (Half DL)
0.8ohm PnP TM2 Mesh Coil – rated for 12-18W (Half DL)
0.15ohm PnP-VM6 Mesh Coil – rated for 60-80W (DL)
0.2ohm PnP-VM5 Mesh Coil – rated for 40-60W (DL)
0.3ohm PnP-VM4 Mesh Coil – rated for 20-28W (Half DL)
0.45ohm PnP-VM3 Mesh Coil – rated for 25-35W (DL)
0.3ohm PnP-VM1 Mesh Coil – rated for 32-40W (DL)
0.45ohm PnP-M1 Single Coil – rated for 28-35W (DL)
0.6ohm PnP-M2 Single Coil – rated for 20-28W (DL)
0.8ohm PnP-R1 Dual Coil – rated for 12-18W (MTL)
1.0ohm PnP-R2 Dual Coil – rated for 10-15W (MTL)
1.2ohm PnP-C1 Ceramic Coil – rated for 10-15W (MTL)
0.25-2.0ohm RBA Coil – Rebuildable Option
Voopoo Drag S Pro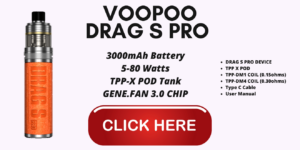 The Voopoo Drag S Pro may be the ultimate example of a Mod Pod. It also has a 0.96" TFT screen and the same features as the regular Voopoo Drag S. It has a bigger battery, 3000mAh, and turns out 80 watts of power versus 60 watts for the regular Drag S.
The biggest difference is that the Voopoo Drag S Pro comes with the TPP-X Tank instead of the PnP Tank. The tank also holds more e-liquid, 5.5ml versus 4.5ml.
Clad in beautiful leather, the sturdy Voopoo Drag S Pro is an exceedingly handsome device. The updates GENE.FAN 3.0 chipset is more efficient than the GENE.TT chip found in the Drag S. You can even download temperature control options.
The biggest difference between the Drag S and Drag S Pro is the tank that is included. While there is cross compatibility, the Voopoo Drag S Pro only comes with the TPP-X.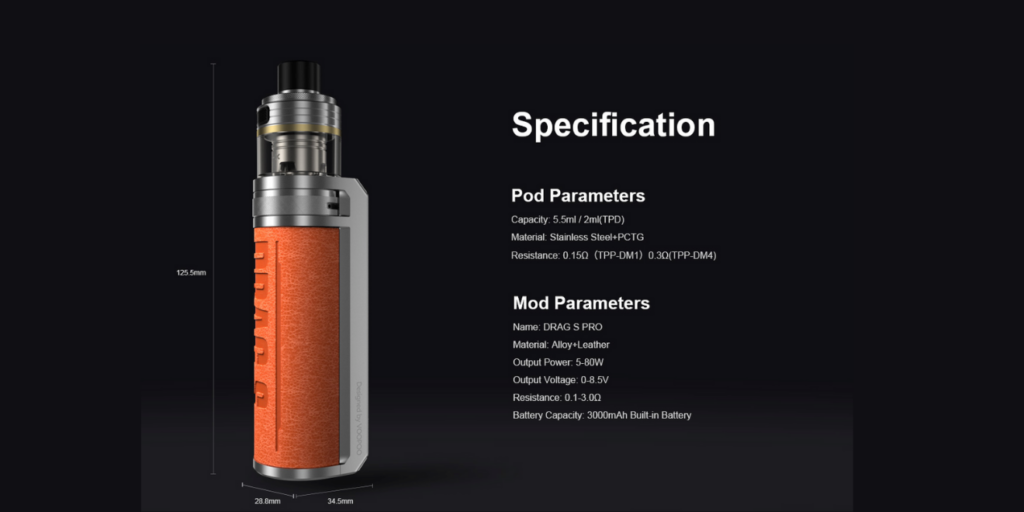 Unfortunately, there is no MTL coil with the TPP-X Pod Tank. If you want to vape salt nic juices with the Voopoo Drag S, you should probably get a PnP Tank. There is a 0.3ohm coil that operates as low as 30 watts, but this is too much for high nicotine strength salt nic juices. At least this slightly higher resistance coil comes standard.
The Voopoo Drag S Pro comes with the 0.15ohm TPP-DM1 Mesh Coil (60-80W) and a 0.3ohm TPP-DM4 Mesh Coil (32-40W). The emphasis is on vapor production and flavor. The TPP-X Pod Tank locks strongly into place with magnets and has a unique side fill design.
Voopoo TPP Coil Series
0.15ohm TPP-DM1 Coils – rated for 60-80W
0.2ohm TPP-DM2 Coils – rated for 40-60W
0.15ohm TPP-DM3 Coils – rated for 80-100W
0.3ohm TPP-DM4 Coils – rated for 32-40W
Vaporesso Gen Nano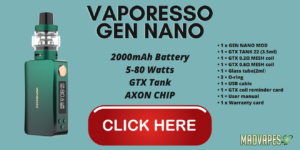 In pictures, the Vaporesso Gen Nano looks an awful lot like a typical vape mod. Compared to the Voopoo Drag S and Voopoo Drag S Pro it even looks a bit staid. It has the classic rectangular design, a centered tank and an OLED screen that can be navigated with a pair of buttons. The brains behind the operation are the cutting-edge AXON Chip. It has the full suite of features and protections available on a standard vape mod. Pictures do not do justice to this beautiful Mod Pod. It is smaller and lighter than it looks. It also has a stout and high-quality feel with a rubberized shell.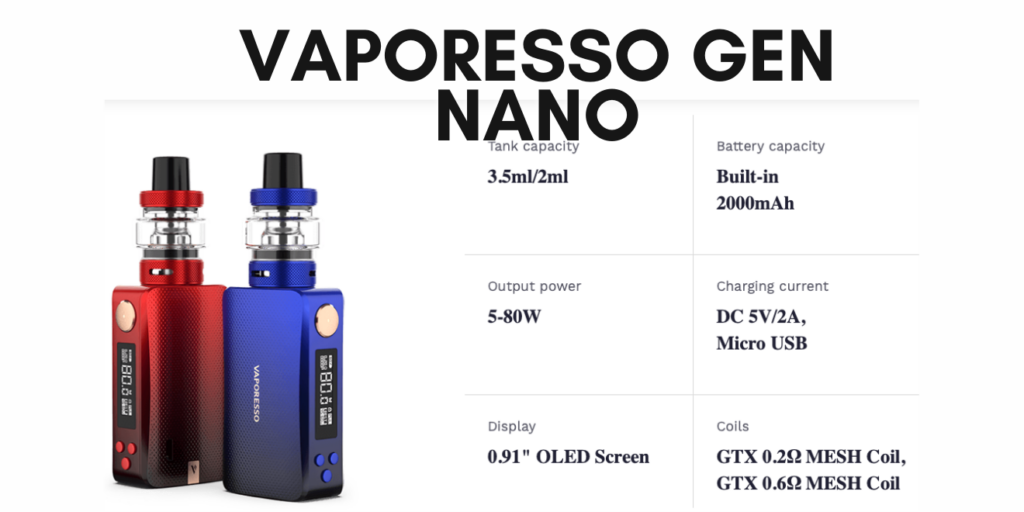 Placed side-by-side with the Vaporesso Gen S, you can really see the size difference between. This is a device that fits easily in your pocket. The Vaporesso Gen Nano measures 115 x 40.3 x 24.2mm. It can fit a 22mm tank without overhang and has a classic 510 connection. The Vaporesso Gen S is a more traditional vape mod and measures 146 x 54 x 30mm. This is a big side difference.
The Vaporesso Gen Nano can shrink down its proportions through use of a 2000mAh built in battery. It doesn't have the power reserves of a dual 18650 mod, but this is plenty for its purposes.  The amazing Vaporesso GTX 22 tank sees to that and is what makes this vape mod into a mod pod.
The Vaporesso Gen Nano has a maximum output of 80 watts. This can be reduced all the way down to 5 watts. The Vaporesso GTX 22 has an expansive coil selection, and several that take advantage of the low end of the power band.
With mesh coils, for most vapers there is not much need for more than the 80 watts of power. The Gen Nano comes with the 0.2ohm Mesh Coil (45 to 60 watts) and the 0.6ohm Mesh (rated for 20 to 30 watts). The coils are press fit. With the bubble glass Pyrex installed, the Vaporesso GTX 22 can hold as much as 3.5ml of e-liquid.
The standard 0.6ohm coil is a much higher resistance coil than either offered standard with the Voopoo Drag S or Drag S Pro kit. Don't judge a book by its cover. There are even high resistance coils available as well. These include a 0.8ohm Mesh coil rates for 12 to 20 watts, pretty much identical to a Smok Novo 3 on paper! And then there is a 1.2ohm GTX Mesh MTL Coil. This coil requires a meagre 7 to 11 watts. With a 2000mAh battery and 3.5ml e-liquid capacity, you are talking a long time between fill-ups if you are using high strength nicotine salts. And the air flow controls can ratchet down the draw to the point where this restrictively built coil really delivers the authentic experience that nic salt vapers are looking for.
Here are the coils available for the 510 threaded Vaporesso Gen Nano.
Vaporesso GTX Coil Series:
0.15ohm GTX Mesh Coils – rated for 60-75W
0.2ohm GTX Mesh Coils – rated for 45-60W
0.3ohm GTX Mesh Coils – rated for 32-45W
0.6ohm GTX Mesh Coils – rated for 20-30W
0.8ohm GTX Mesh Coils – rated for 12-20W
1.2ohm GTX Mesh MTL Coils – rated for 7-11W